Univest Introduces P2P Fund Transfers
Univest Direct, the online division of Univest National Bank and Trust Co., has introduced a new Person-to-Person Funds Transfer Payment service for their personal checking clients. The new service will allow members with personal checking accounts to move up to $2,500 from their account to anyone else for free.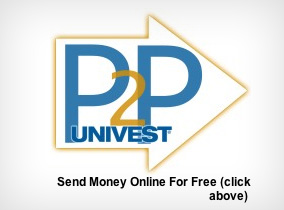 So, what is P2P funds transfer? Univest Direct has a nice explanation on their website, that reads: A P2P transfer is just like writing a check to someone else except P2P transfers are faster than using checks, more secure, and cheaper than using other funds transfer providers, check cashing stores, or wire services. You can even send money for free on a recurring schedule. This service is ideal for sending money for free to students away at school, friends, or family in the U.S.A. Person-to-Person funds transfers are set to a maximum of $2,500 per transfer.
Univest's landing page also addresses any security questions members may have be outlining the following
Neither party ever sees the other's bank account information. Univest seeks the recipient's permission to make the deposit via email so neither party ever needs know the other's account information.
All transactions are done using the standard web Secure Socket Layer (SSL) technology.
The transfer dollar amount is never stated in any of the e-mail correspondences. The sender and recipient must communicate outside of the e-mail prompts in order for the amount to be revealed.
Univest cannot withdraw money from either account without both parties agreeing to the transaction.
For further information on this FREE application visit the UnivestDirect Web site.
Univest National Bank and Trust Co. is located throughout Philadelphia, 32 branches in total.
Ask a Question