BBVA Compass Annouces New Credit CARD Act Friendly ClearPoints Card
Many credit cardholders have seen huge increases in rates and fees as lenders try to get as much out of consumers as they can before legislation kicks in next year that will limit these kinds of rate hikes and non-transparent lending behavior. However, BBVA Compass has recently relseased a credit card that is a direct response to consumer demands and follows the guidelines of the new Credit CARD Act that is scheduled to go into effect early next year.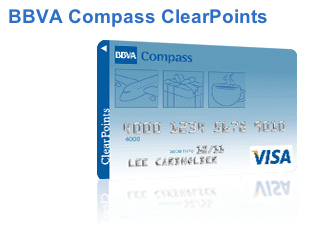 The legislation, signed into law on May 22, 2009, will go into effect in late February of next year. The law will promote transparency in credit card fees, as well as limits to the size and frequency of rate increases. The Act also states that fees and high rates must be reasonable and related to infractions, and there can only be a low "teaser" rate if it is explicitly stated in the agreement, so lenders cannot arbitrarily assign higher rates after you choose a card.
For more information, you can view a complete copy of the bill here (PDF).
The ClearPoints Card
With these considerations in mind, BBVA Compass has deisgned a credit card that is specifically designed to increase transparency and stable rates. The ClearPoints Card is an attempt to follow the letter of the new legislation, and aims to increase transparency for the consumer. The card details include:
Pricing terms, tied to a Prime Rate index, that will not change for the life of the card
No default pricing or annual fees
No unexpected or hidden fees
Rewards for good payment behavior
Free credit bureau monitoring
Free identity theft coverage
CompassPoints rewards program
As BBVA senior executive vice president and head of Retail Banking Shelaghmichael Brown put it, "In a nutshell, the BBVA Compass ClearPoints credit card is one you would be happy to give your grandmother."
For more information on the ClearPoints card, visit the BBVA website here.
Ask a Question