MyBankTracker.com iPhone App Now Available for Download
We are thrilled to announce the launch of our new MyBankTracker.com App for iPhone and iPod Touch. Version 1.0 is up and running, with great initial feedback from test users. Our App locates your bank, maps banks nearby with travel directions and stays on top of the latest bank news and promotional offers – getting banking information to you on the go – and when you need it. iPhone and iPod Touch users now have thousands of banks at their fingertips, with the option to personalize the App for your bank in one easy step.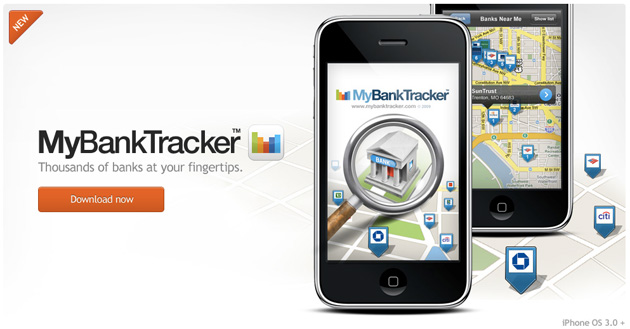 Key features:
EASY PERSONALIZATION
Make finding your bank even simpler by personalizing the MyBankTracker.com application. Tap the My Bank option, select your bank, and you're done. The app will remember your settings and you'll never have to search for your bank again.
FIND BANKS NEAR YOU
Locate Banks Near You: Using the iPhone or iPod Touch GPS to pinpoint your exact location, the MyBankTracker.com application creates a detailed map of the banks near you. Tap any icon to view a unique profile page for more information on that bank.
Get Directions: Once you find the bank you want, tap again to get turn by turn directions to the branch by bus, car or on foot through Google Maps.
STAY INFORMED
Always stay up to date with the latest banking news and deals. The MyBankTracker.com application is designed to help you make smart financial decisions with daily news, deals and promotional offers.
FEATURES
GPS pinpoint location finder
List format that is sorted by distance
Bank personalization for quick search and directions
Information automatically updated as you change locations on the map
Individual profile pages by bank and bank branch
Walking, public transit or driving directions through Google Maps
Daily news, deals and promotional offers
Ability to email bank news and locations
Functions in normal and landscape mode
To learn more about the App or to download please click here.
Ask a Question