Reports Show More Signs of Sustained Recovery but CD Rates Remain Down
The holiday season is in full swing and with it comes yet another reason for consumers to celebrate: data that confirm that the economy is indeed set for a sustained recovery come 2010.
Less Jobless Claims
For one, initial jobless claims fell to 452,000 for the week ended December 19, 2009, down 28,000 from the previous week's levels. This is the lowest that claims for jobless benefits have gone since September 6, 2008, just weeks before the Lehman collapse which started the aggravation of the financial crisis. Figures from the Labor Department in Washington indicate a marked improvement from the 480,000 claims the prior week, and the 470,000 expected by many economists.
Rise in Orders for Durable Goods
Yet another sign of an improving economy is the report released by the Commerce Department showing that the demand for big-ticket durable goods in US factories increased in November. Not counting orders for the transportation industry which is said to be generally volatile, the surge was twice what analysts had forecasted. According to Brian Bethune, an economist at HIS Global Economics, progress is observed in many areas, including "increases in consumer spending and business spending to growth in exports."
CD Rates Still on the Downtrend
But do the gains in economic activity support a corresponding rise in benchmark interest rates, and consequently, CD rates? Not unless the Fed gives the go signal, and so far the federal agency has maintained record-low CD rates. In fact, CD rate averages this week remain to be on the downtrend.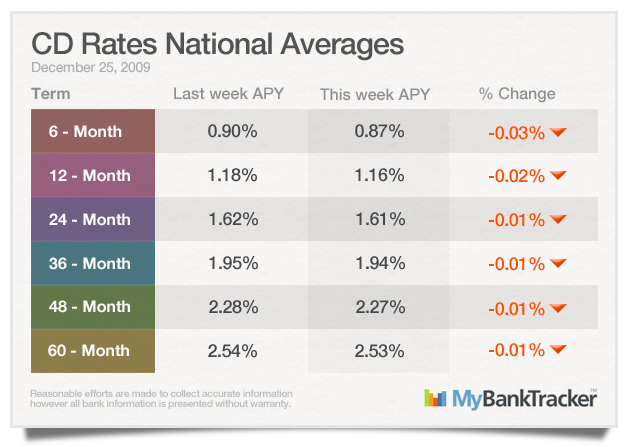 6-month and 12-month CDs
Short-term CDs saw the biggest cuts in CD rate averages this. After a 3-basis point gain last week, 6-month average CD rates fell by the same number of points this week, essentially wiping out the previous increase. One-year CD rates also had more cuts than hikes this week, with the average sliding down from 1.18% to 1.16%.
24-, 36-, 48- and 60-month CDs
CD yield averages for 2 to 5 year CDs all fell uniformly by one basis point each. The average for 2-year CD yields went from 1.62% to 1.62%, the 3-year from 1.95% to 1.94%, the 48-month average from 2.28% to 2.27%, and 5-year rates from 2.54% to 2.53%.
If you want to know if your bank has raised or lowered its CD rates this holiday week, visit our comprehensive database of CD rates available.
Ask a Question