US Covers Fannie, Freddie Losses During The Holiday Season
If you were unaware that the White House removed the $200 billion bailout cap on mortgage-finance giants Fannie Mae and Freddie Mac until 2012 don't be alarmed, because that was the plan. On Christmas Eve, the Obama administration put this action into motion during a time when the news was assured of getting no coverage, but luckily it did stir controversy and bring to the attention of a few key individuals, including the Wall Street Journal, who broke the news on December 26th.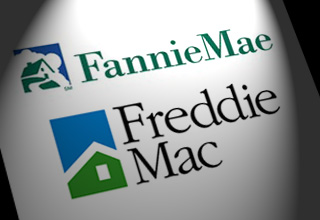 The WSJ highlights:
The Treasury announced Thursday it was removing the caps that limited the amount of available capital to the companies to $200 billion each.
Unlimited access to bailout funds through 2012 was "necessary for preserving the continued strength and stability of the mortgage market," the Treasury said. Fannie and Freddie purchase or guarantee most U.S. home mortgages and have run up huge losses stemming from the worst wave of defaults since the 1930s.
"The timing of this executive order giving Fannie and Freddie a blank check is no coincidence," said Rep. Spencer Bachus of Alabama, the ranking Republican on the House Financial Services Committee. He said the Christmas Eve announcement was designed "to prevent the general public from taking note."
Trying to understand the reason for removing the cap is a tricky one. So far, Fannie has only received $60 billion and $51 billion for Freddie of the $200 billion cap each received. With each mortgage-finance giant having more than half remaining, it seems Obama may have a long-term plan that will result in these companies taking on a bigger debt. In any case, the American tax payer may be receiving the hit when these new massive debts begin to accumulate.
The WSJ stated that in exchange for the new funding the Treasury has received preferred stock in the companies paying 10% dividends. The Treasury also has warrants to acquire nearly 80% of the common shares in each firm.
Business Insider contacted Credit analyst Edward Pint to share his theories on what the Treasury's lifting of the bailout caps on Fannie and Freddie might portend for 2010.
Unfortunately or maybe timed perfectly, any representatives at the Treasury were unavailable for comment due to the holiday. We can only imagine how full their inbox and voice mail will be come Monday. MyBankTracker.com will provide updates as they become available.
Ask a Question