Best CD Rates Remain Steady This Week After Improved Holiday Shopping Season
With the holiday season almost over, we already have seen a lot of improvements in the economy. Holiday spending has increased by 3.6 percent thus far, and while these are not final figures, as there will be returns and people will still be continuing to shop, it might mean that consumers will have a few positives to look forward to in 2010. One negative that is yet to be fixed is the dismal job market.
Mortgage rates have been a record lows as well, however with many economists expecting the Federal Reserve to start increasing interest rates this year, that may change. When and if the interest rates are raised, this will affect CD rates as well.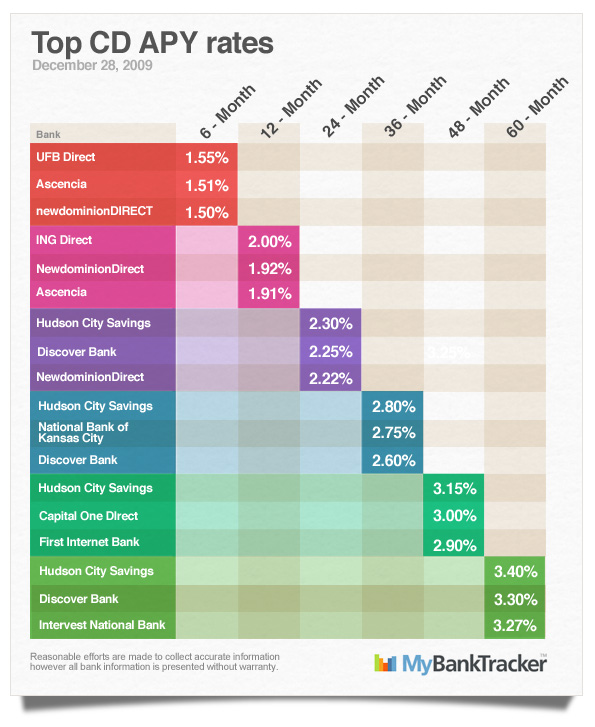 This week sees few changes in CD rates but the best rates we have found are as follows:
6-month CDs
The national average for a 6-month CD currently stands at 0.87%. However, the top three individual rates offered are UFB Direct Bank with 1.55%, then Ascencia (Louisville, KY) with 1.51% and newdominionDIRECT with 1.50%.
12-month CDs
ING Direct still leads the best CD rates for the 1-year term, giving a yield of 2.00%. Just like for the 6-month CDs, newdominionDIRECT and Ascencia are not far behind offering 1.92% and 1.91% respectively. The national average is 1.17%.
24-month CDs
The top yields for 2-year CDs and the banks offering them also remain pretty much the same for this week, except for third place. Hudson City Savings Bank is still highest with 2.30%, then Discover Bank with 2.25%, and finally, newdominionDIRECT with 2.21%. The national average is 1.61%.
36-month CDs
As in the previous weeks, Hudson City Savings Bank continues to give savers the best option for 3-year CDs with a rate offering of 2.80%. While National Bank of Kansas City still follows at 2.75%, Discover Bank continues its place in the top three highest 36-month CD rates with 2.60%. The national average is 1.94%
48-month CDs
This week's highest 4-year CD rates also still come from familiar institutions: Hudson City Savings Bank – 3.15%, Capital One Direct Banking – 3.00%, and National Bank of Kansas City (tied with Onewest Bank Fsb) comes in third with 2.90%. The national average is 2.28%
60-month CDs
For 5-year CDs, nothing has changed from last week, starting with Hudson City Savings Bank's 3.40%, Discover Bank and OneWest Bank's 3.30%, and Intervest National Bank's yield of 3.27%. The national average is 2.53%
For an updated list of the best CD rates in your area, check our comprehensive database of CD rates available.
Ask a Question