Dorthy.com Helps People Make (And Keep) 2010 New Year's Resolutions
Sure, a lot of people talk about making a resolution for the new year, but how many people can say they actually kept them? Only about 6%, according to the second annual New Years Resolution Poll, a number that Dorthy.com wants to increase with its New Years Resolution planning tool.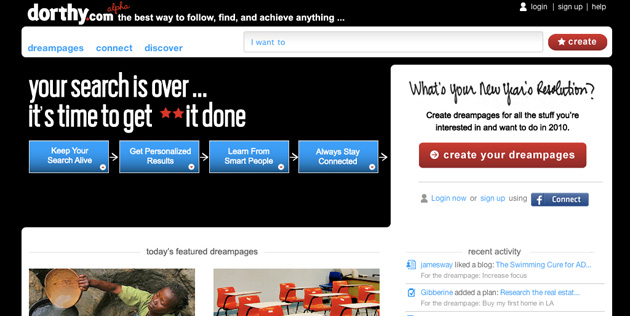 Financial Resolutions On the Rise
Perhaps unsuprisingly, this year is expected to see an increase in finance-related resolutions, with 58% of adults resolving to save or invest money, and only 17% will try and find a new job. The resolutions also reflect the housing market, with only 5% of those polled planning on buying a house.
Along gender lines, 59% of men say that finances will be their biggest resolution, while 69% of women say that losing weight is their top priority for the new year. Both genders agree to develop closer ties to friends and family (25%) and travel more (18%) and quit smoking (13%).
Keeping You on Track
Dorthy.com hopes to help people keep these varied resolutions by offering a planning tool that keeps you on track. In addition, by tracking the resolutions that consumers are making for the coming year, Dorthy.com gives us insight, if only a wishful insight, into what consumers hope to achieve in 2010.
This can be very important information for marketers who are looking to get a jump on what the trends for the coming year will be, but also offers an interesting way to look at the effect that the events of the past year have had on consumer confidence.
Ask a Question