Top 5 Mobile App Stores: Which Have The Least Expensive Apps?
With Google Android and Nokia Ovi all entering a smartphone platform market that was until recently was solely dominated by the iPhone, consumers are given a wider variety of choices when it comes to where they can go to buy apps for their mobile phone — and one report goes to show how it may pay to shop around before making your mobile app purchases.
Apple vs. Android
While the Apple store currently has by far the most applications (over 100,000) when it comes to submitted applications, Android is catching up quickly with over 10,000 apps available. These two figures are both trailed by Blackberry, which has under 5,000. It is important to remember that the sheer number of apps available isn't always the most important factor though. The quality of the app has to be taken into consideration, as well as how many are available as a free download.
The Top 5
To answer this latter question, Mobclix, a mobile analytics company, determined the rankings amongst the top 5 mobile platforms according to average app price. They provided two sets of data to the readers, one that included the free app in the average, and one that averaged only paid apps, which allowed you to factor in how many free apps each platform has as well.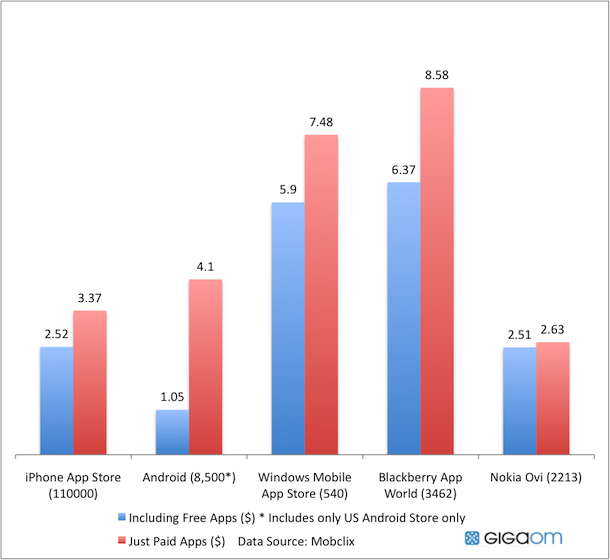 As you can see, Nokia takes the cake currently for the cheapest apps offered through mobile banking. However, with only a little over 2000 apps, there isn't as much choice as with the runners ups, Android and Apple. These two actual numbers come out to being about equal, as Apple's paid apps tend to be cheaper on average, but with free apps factored into it, Android has the lower price, meaning that it offers a higher percentage of free apps that the Apple Store.
Ask a Question