A New Year Starts but the Best CD Rates Remain Constant
As far as some aspects of the economy are concerned, 2009 is a year to remember, and not in a good way.
For instance, the unemployment rate was at a record high, reaching double-digit figures towards year-end. The figures for initial jobless claims fell sharply over the last quarter but at some point in the past year, some 20 million or more individuals were unemployed and relying on jobless benefits. Hiring is expected to pick up this year but still not quickly enough to drastically cut the unemployment rate. Economists forecast that this rate may stay above 9% for this year.
Recession Hurts Both Savers and Spenders
While the recession has turned more American consumers to savers from being big spenders, the past year has also been a dismal one for all those who had money to spare and who flocked to banks and credit unions. The Federal Reserve kept benchmark interest rates at extremely low levels from 0% to 0.25%. With the market awash with cheap funds, banks in turn offered really low yields on deposit products, especially savings and CD rates.
Does the start of the year 2010 bring with it some good news for savers? Maybe, but this early in the year, little has changed with the best CD rates for this week.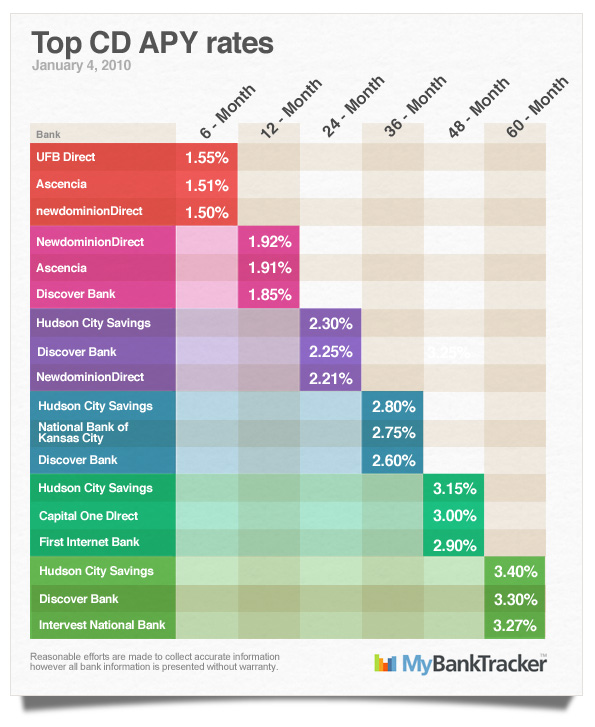 6-month CDs
For 6-month CDs, UFB Direct continues to offer the highest CD rates at 1.55%, with Ascencia and newdominionDIRECT close on its heels at 1.51% and 1.50% respectively.
12-month CDs
The most marked changes are seen in the top 1-year CD rates, but unfortunately, the change isn't for the better. Previous forerunner ING Direct, cut its 12-month CD rate of 2.00% down to 1.75%. The highest 12-month rates this week therefore come from newdominionDIRECT – 1.92%, Ascencia – 1.91%, and Discover Bank – 1.85%.
24-month CDs
As with most rates on this week's roster, 2-year CD rates also offer no changes. The top three CD yields for the 24-month CD are from Hudson City Savings Bank at 2.30%, Discover Bank at 2.25%, and newdominionDIRECT at 2.21%.
36-month CDs
CD yields for the 3-year placements remain unchanged too with the same banks offering them and at the same rates. Hudson City Savings Bank has the highest rate with 2.80%, with National Bank of Kansas City at 2.75% and Discover Bank at 2.60% just a few percentage points behind.
48-month CDs
Even long term CDs show no hikes or cuts, at least for the top rates. For the 4-year CDs, the highest rates continue to be offered by Hudson City Savings Bank – 3.15%, Capital One Direct Banking – 3.00%, and National Bank of Kansas City and OneWest Bank both giving 2.90%.
60-month CDs
Finally 5-year CD rates also fail to welcome the New Year with a bang, remaining constant both for the yields and the banks giving the rates. Hudson City Savings Bank, Discover Bank and OneWest Fsb, and Intervest National Bank still give the highest returns at 3.40%, 3.30%, and 3.27% respectively.
Despite the dismal showing of the best CD rates at this time, there could be better news up ahead. It is, after all, still the start of the year. For an updated list of the CD rates in your area, check out our comprehensive database of rates available.
Ask a Question