American Express Introduces AcceptPay Online Invoicing and Payments
American Express has taken another step to make invoicing customers and accepting various forms of online payment faster and more convenient for small business owners.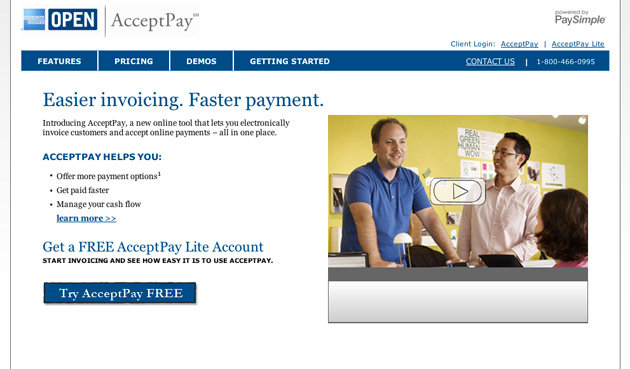 Multiple Payment Options
One of the biggest perks of the AcceptPay solution is that it gives your customers the option to pay my credit card, eCheck, and ACH payments, giving them a variety of options to pay for your goods and services. Simply set up an AcceptPay account, and fill out the form for email invoices, and your customer will receive their invoice via email, and are provided with a variety of payment options, including chase or bank transfers.
With AcceptPay, you are able to also set up recurring invoices that are automated so you don't need to think about them every week or month. The program will track your invoices you you will know which have already been paid, and which still have a balance due.
Two Versions
AmEx offers two versions of AcceptPay, the full-featured solution at $20 per month, and the freeware version, AcceptPay Lite. Lite does not offer online payments, automatic receipts, sync with Quickbooks or imported customers lists, but it still provides one user with 10 email invoices per month for unlimited customers, and the recurring invoice option.
To learn more about AcceptPay or to sign up, visit the page here.
Ask a Question