Money Matters: Get Answers to Your Financial Questions
MyBankTracker.com just added Financial Help, a feature that allows you to ask us your most pressing financial questions. Submit concerns and questions about a range of banking issues, from credit cards and savings bonds to questions about retirement savings account options. Our financial expertise will guide you by providing the industry information you need to make smart decisions. Find the answers to all of your banking questions in one place at MyBankTracker.com. Access this service at https://www.mybanktracker.com/questions, or click the link on our home page.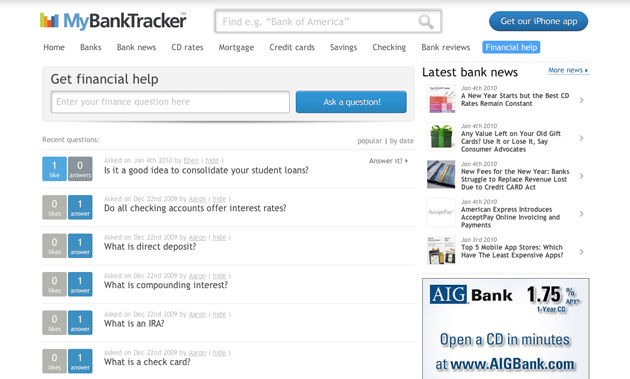 MyBankTracker.com provides user-friendly financial information to help you stay connected and make informed banking choices. Our site offers financial institutions a tech edge in the ever-competitive virtual world, providing better access to clients through creative interfacing.
Ask a Question