Google Announces Launch of Nexus One Mobile Phone: Top Android Finance Apps for 2009
Today Google announced the long awaited, much tweeted-about Google phone, the Nexus One, which will be the first smart-phone to be running the Google Android mobile platform on Google built phone hardware. Many believe that by building their own phone, Google, like Apple, will be able to really highlight the potential of their operating system.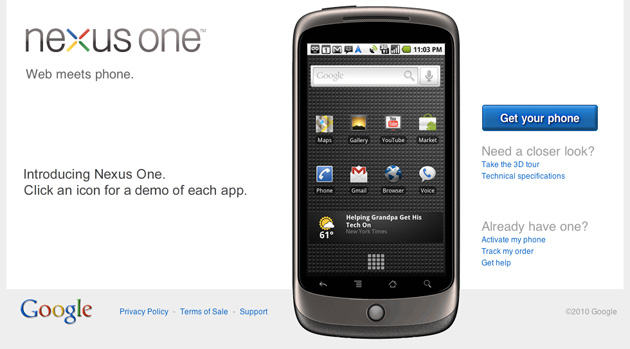 Top Android Finance Apps
To celebrate the release of this new phone, we have decided to release a list of the the top finance applications on Android. These are in no particular order, but are some of the most popular and useful apps on the Android platform. The apps are:
1. Bank of America®
Check balances, transfer funds and pay bills from anywhere, 24/7. You can also locate branches and ATMs based on your current location.
2. aCurrency
This app allows you to convert over 160 currencies into your local currency with the click of a button. Displays up to 5 currencies at a time with the currency code and country flag.
3. Mortgage Calculator
If you are in the market for a home, this app can help you with all aspects of financing your mortgage by calculating your principal and payments.
4. Tip Calculator by iStockManager
A simple tip calculator app that lets you figure out what you owe based on your bill and percentage you want to tip, as well as split bills between friends.
5. Finance
This is the mobile version of the Google Finance web tool, which gives you access to real time quotes of your stocks, with charts and access to new pertaining to your company.
6. Real Estate Droid
An app to help you find and finance your new home. Lets you search homes for sale, take pictures and notes, and compare prices and mortgage quotes. Also provides information on the neighborhood the house is in.
7. Karl's Mortgage Calculator
Another mortgage calculator app, that provides graphs and charts to calculate your principal, payments, and interest. You can also input any of those factors, and calculate back to a different one.
8. SA Tip Calculator
Another app that helps you determine the appropriate tip, including factors like splitting a bill and adding in tax.
Growth of the Android Market
Although currently Android is trailing iPhone in total number of apps, there are some who have predicted that the Android market will take off in the next year, topping 150,000 by the end of 2010. It will be interesting to see how these trends change with the introduction of Nexus One, and whether or not a Google built phone will allow and in fact encourage developers to create more apps for the Android Market.
Ask a Question