Three Billion iPhone Apps Downloaded: The Top Ten Finance Apps of 2009
Today Apple annouced that it has reached three billion apps downloaded, and so to mark the occasion we have decided to write up a report on the top ten finance apps available from the Apple store. As of this April, there were a reported 37 million iPhone and iPod Touch units sold, meaning that if Apple has continued to grow by an average 3 million users each quarter, each iPhone and iPod touch user has downloaded an average of 70 apps.

Top Five Paid Apps
In order to be fair, we have separated the ranking into two categories, paid and free. The current top ten paid finance apps are:
1. Bill Tracker
Price: $0.99
This app helps you manage your bills by tracking your monthly payments and alerting you when you have something due. The Calendar and Upcoming Bills views let you easily see the bills that are due that month.
2. BillMinder
Price: $0.99
Another bill tracking and reminding app, this app offers a Calendar view as well as Push Notifications to alert you as to when you have a bill due.
3. HomeBudget with Sync
Price: $4.99
This budget app has the neat feature of Family budget, which allows a group of devices to share spending information. A Lite verison is also available for free on the Apple Store.
4. iExpenseIt
Price: $4.99
This app lets you store photo receipts and track your spending by category. You can also graph your data and export it as a .CSV for easy viewing.
5. ExpenseTracker – Spending
Price: $2.99
This is a easy to use, no frills app that tracks your spending with recurring expenses and easy to view graphs that show your spending in categories by percentage of total.
Top Five Free Apps
Unlike the paid apps, the top free apps are mostly created by banks for their mobile banking finctions, rather than to track bills or spending. The top five on the free finance app list are:
1. Bank of America® – Mobile Banking
Check available balances, pay bills, and transfer funds. You can also find branches and ATMs near you, and check your available balance 24/7.
2. Chase Mobile(SM)
The Chase app is similar to the B of A app, offering transfers and balance information at any time for accounts and credit cards. They also provide branch location with phone numbers.
3. CNBC Real-Time
The CNBC app provides real-time customizable stock quotes both during and after market hours. The app also provides news, charts and even a video feed.
4. Mint Personal Finance
Mint has the top personal finance tracking app on the free side of the specturm. They offer monthly budget management and categorized spending reports.
5. Wells Fargo Mobile
Like the ther two mobile banking apps, the Wells Fargo app offers all of the conveniences of banking from your mobile phone. To locate branches, just click your current location and the app will do the rest.
New MyBankTracker.com App on iTunes
So there you have it, the finance apps that helped to drive Apple's app downloads over three billion. It will be interesting to see what apps rise to the top of the list in the coming year, and what new hot finance apps are released.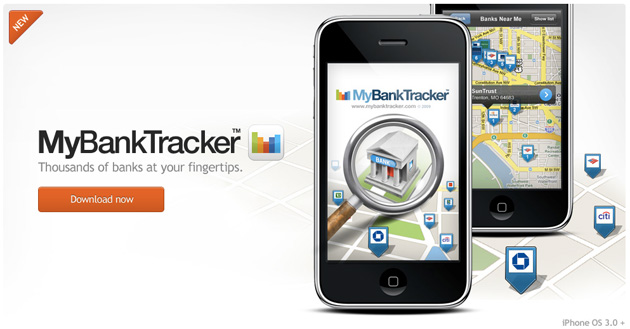 If you are interested in a FREE app that lets you find banks near you, keeps you up to date with recent banking news and deals, and is customizable for your specific bank, take a look at our new Bank Finder app here, or on the iTunes store.
Ask a Question