Yuxi Pacific Introduces Mobile Remote Deposit Capture App for iPhone
It is becoming more important for companies to have their own iPhone apps, and software developers are taking advantage of this new market. Yuxi Pacific, a company that among other things takes on iPhone app development for companies, has developed a mobile remote deposit capture app for financial institutions.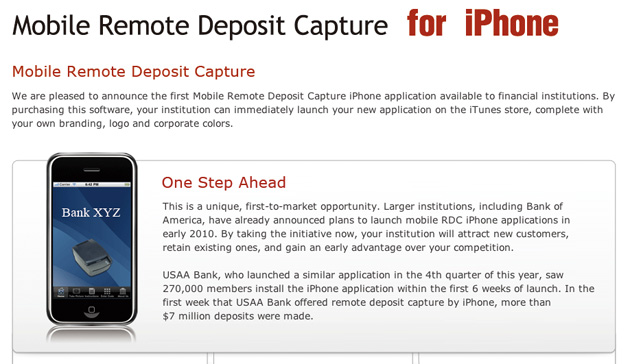 What is Remote Deposit Capture?
The Yuxi Pacific remote deposit capture (RDC) application allows customers to take a picture of their check with their iPhone, and then deposit it securely online without having to make a trip to the bank. With a growing number of banking consumers who are iPhone users, many companies are hoping to take advantage of this new technology to bring greater convenience to their customers
Giving Small Companies An Advantage
Large banks like Bank of America® have already started working on their own mobile remote deposit capture (RDC) apps that will most likely be released later this year. USAA was the first to launch such an app, and saw 270,000 users download the app in the first 6 weeks, making $7 million in deposits the first week
Obviously, there is a huge market for this kind of service, but smaller banks often don't have the resources to spend on developing their own app. By outsourcing and using Yuxi Pacific's app, these banks will be giving themselves a leg up on their competitors as well as allowing them to compete on the same technological level as much larger institutions?
Ask a Question