Visa Ramps Up Olympics Advertising with 'Olympics for Life' Sweepstakes
Is everybody ready for Olympics-mania to begin? With only a little over a month until the start of the 2010 Vancouver Winter Games, Visa is starting to increase their Olympics marketing campaign, starting with a sweepstakes to win lifelong tickets to the Winter Olympics.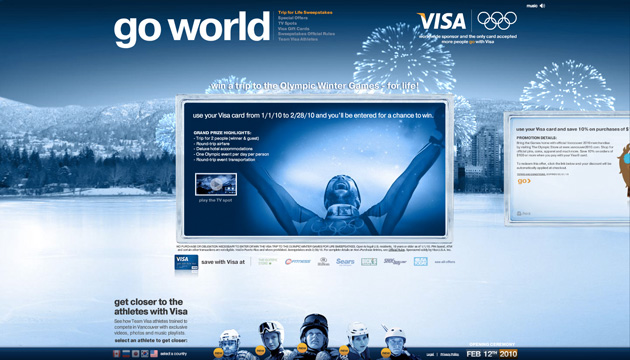 'Olympics for Life'
The sweepstakes, announced Tuesday, will award one Visa customer two tickets for every Olympic Winter Games for life, starting with the 2014 Sochi Winter Games in Russia. Visa cardholders will automatically be entered when they use their Visa card, or alternately can enter by visiting www.visa.com/goworld. For non-purchase entry, hand-print your name, address, city, state, ZIP, daytime and evening phone numbers on 3″ x 5″ card and mail in #10 envelope postmarked by 3/1/10, and received by 3/8/10, with postage, to:
Visa Olympic Winter Games Trip For Life Sweepstakes
P.O. Box 695
Bethpage, NY 11714-0695
The sweepstakes, which will run from January 1 through February 28, will award the grand prize winner and a guest tickets to 4 Olympic events as well as:
Round-trip airfare
Deluxe hotel accommodations
Round-trip event transportation
Visa Go World Campaign
Visa has been a proud Olympic sponsor and sole official credit card of the Olympic games since 1986. It joins Samsung, Panasonic, McDonald's, Omega, GE and Coca-Cola as part of the group of "Worldwide Olympic Sponsors." In addition to the sweepstakes, Visa has been running dramatic ads (voiced by Morgan Freeman) that talk about the majesty of the games and Visa's role and relationship with them.
Ask a Question