CD Rates Show Slight Improvement This Week Amid Disappointing Economic News
One week officially into the year, economic data reveal mixed signals as to what the country can expect for this year. Is a recovery really in the offing or will the wait extend to beyond the year 2010? On the upside, retailers saw modest gains in sales for the last three months of the past year, encouraging some store chains to raise their profit outlook for the last quarter.
But despite the slight surge in retail sales and consumer spending, a just-released report from the Labor Department shows that employers cut some 85,000 jobs in December, a sharp jump from the 8,000 layoffs that analysts had predicted for the same period. With the unemployment rate staying put at an average of 10%, there is clear indication that unemployment will remain to be a primary concern and a vital key in the country's recovery.
Another sign that supports the possibility of a long-drawn-out recovery is the Federal Reserve's resolve to keep rates down at 0 to 0.25 percent, the lowest benchmark rates have ever been, for a longer, indefinite period. This has pushed savings and CD rates to record low levels too.
Surprisingly though, in the first week of the new year where economic news is anything but new, CD rates this week rallied a bit from last week's averages.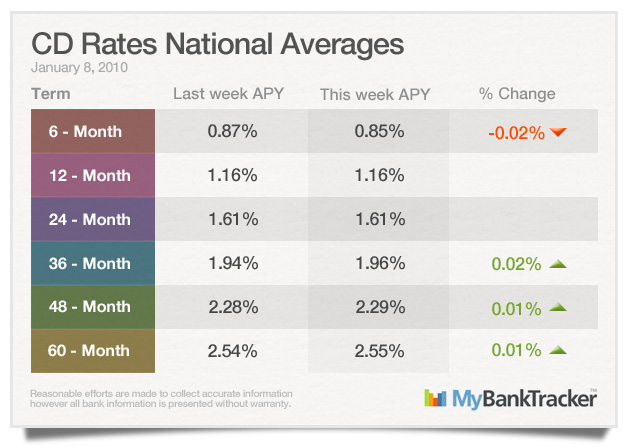 6-month CDs
Only the average 6-month CD rate fell this week, dropping from 0.87% last week to 0.85% this week, a difference of minus two basis points.
12- and 24-month CDs
Medium-term CD rate averages as those for one and two year CDs remained constant this week at 1.16% and 1.61% respectively.
36-, 48- and 60-month CDs
Prospects for long term CDs present a better outlook for savers as averages rates for 3-year, 4-year, and 5-year CDs showed slight improvement from the previous week's figures. The 36-month CD average had a modest increase of 2 basis points from 1.94% to 1.96%, while both 48-month and 60-month CD yield averages, now at 2.29% and 2.55% respectively, went up by one basis point each.
If you want to know whether your bank has raised or lowered its CD rates this week, visit our comprehensive database of CD rates available.
Ask a Question