North Valley Bank of Redding, CA Introduces New Online and Mobile Banking Tools
North Valley Bank, a community bank with locations in several counties in Northern California, has announced that it plans on releasing a variety of new online and mobile banking tools to provide more convenience and service to their customers.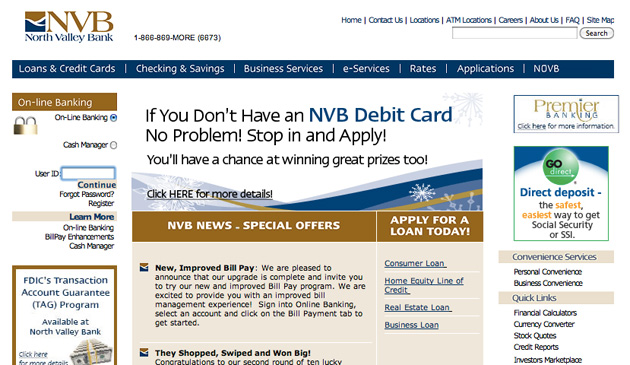 Online Bill Pay Upgrade
Available January 7th, the new online bill pay service will feature a better interface for managing cash flow and will allow customers to pay their bills electronically.
Electronic Account Statements and Alerts
By the end of this month, North Valley Bank plans to go paperless with its monthly statements, giving customers the option to instead receive these statements by email. They will also offer the option to set up custom alerts so that North Valley customers can receive email notifications to help them keep track of their finances, alerting them when their account has a low balance and providing other important information.
Mobile Banking
The Go Banking! mobile banking capability allows North Valley customers all the conveniences of online banking, from their mobile phone. Users will be able to check balances, view transactions, pay bill, and ever transfer funds from their mobile device.
These services demonstrate North Valley's commitment to providing its customers with the service of a small community bank with all the conveniences of a larger bank.
"This is one more step to provide NVB customers with the banking flexibility necessary for today's fast-paced world," said Scott Louis, Executive Vice President and Chief Operations Officer.
Ask a Question