Hopes of a Quick Recovery Are Dashed And Best CD Rates Show Little Changes
US traders ready themselves for a better-performing stock market as the fourth-quarter earnings results unofficially kick off today. Anticipation remains high that significant corporate earnings for the said period will provide the momentum needed to sustain economy recovery in the country in the next few months.
Layoffs Higher Than Forecast
This optimism is present in Wall Street despite the gloomy jobless report disclosed last Friday, which showed that 85,000 jobs were cut last December, and the unemployment rate remains in double-digit figures at 10%. Analysts had earlier predicted the number of layoffs to be only around 8,000. This puts the actual figure to be at more than 10 times the layoffs forecast.
On the other hand, President Barack Obama himself said Friday, following the release of the unemployment data, that the developments in the labor market were still on track because the trend in general was still showing positive changes.
"The job numbers are a reminder that the road to recovery is never straight," he said in a speech at the White House.
CD Rates Remain Relatively Stable
And what of the highly-anticipated changes in CD rates? Has the Federal Reserve made any indications of an impending rise in interest rates? For now, CD rates remain unchanged at best, and in some cases, leaning more towards sliding down than inching up.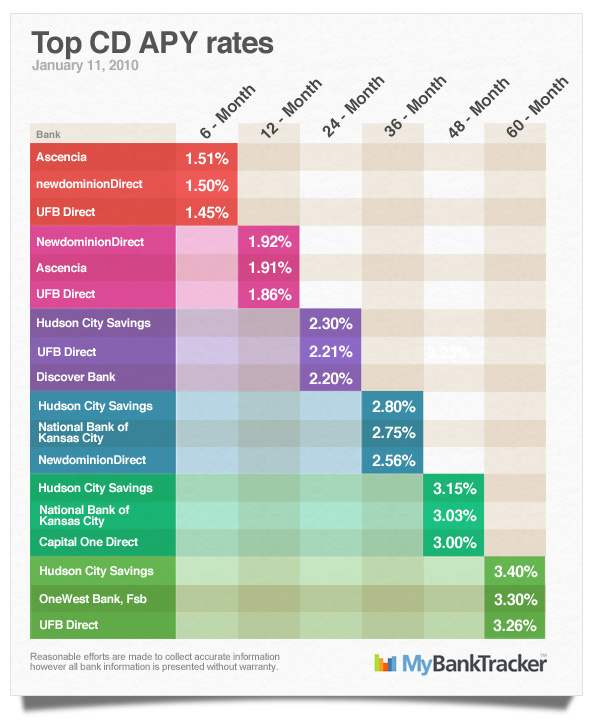 6-month CDs
The best CD rates for this week start off with a slight decline for short term CDs, particularly 6-month CD yields. UFB Direct dropped its CD rates last week by a few basis points to 1.45%, and settled for being the third highest on the list. The top yields now belong to online banks Ascencia at 1.51%, and newdominionDIRECT at 1.50%.
12-month CDs
The highest one-year CD rates are relatively unchanged from last week, with only Discover Bank sliding out of the list after its 12-month CD rate went down from 1.85% to 1.75% this week. The banks newdominionDIRECT and Ascencia still trumps other banks though, with its rate offerings of 1.92% and 1.91% respectively.
24-month CDs
For the 2-year CDs, again Discover Bank has adjusted its 2-year rate from 2.25% to 2.20%, making this rate the third best CD rate for this term. At the same time, Hudson City Savings Bank continues to dominate the CD yields market with a rate of 2.30%. Giving 2.21% for their respective 24-month CDs, UFB Direct and newdominionDIRECT are not so far behind.
36-month CDs
The 3-year CDs also didn't do too poorly this week with both Hudson City Savings Bank and National Bank of Kansas City giving the same top yields from last week of 2.80% and 2.75% respectively. Offering 2.50%, Discover Bank is replaced by newdominionDIRECT (rate – 2.56%) for the third-highest spot.
48-month CDs
The best yields for 4-year CDs are still given away by Hudson City Savings Bank at 3.15%, while the National Bank of Kansas City and Capital One Direct Banking follow with rate offerings of 3.03% and 3.00%.
60-month CDs
Even long-term CDs show little promise as most rates remain the same. Hudson City Savings Bank, OneWest Bank, Fsb, and UFB Direct are still the forerunners for this CD with yields of 3.40%, 3.30%, and 3.26% respctively.
With the new year still starting, there could be better news up ahead. In the meantime, check out our comprehensive database of rates available, for an updated list of the CD rates in your area.
Ask a Question