Umpqua Bank Introduces The Umpqua Innovation Lab to Showcase New Technology
Over the past year MyBankTracker.com has seen banks take different approaches to bring new innovation to today's consumer. Easily the number one driver has been mobile, with the explosion of mobile banking and iPhone applications. Heck, MyBankTracker.com even launched our own mobile app this year – Bank Tracker. The other push has no doubt been online banking.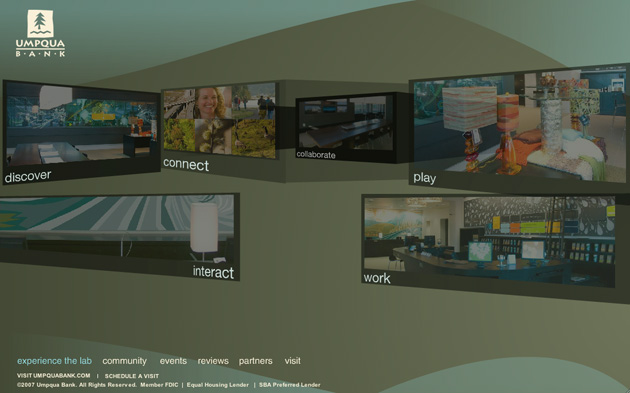 Banks Bring Tech to Branches
With this continued drive to put the bank in the hands of the consumer, is the branch concept slowly dying? Or is it quickly evolving to something more enjoyable. ING Direct has their Cafe, and TD Bank calls their locations stores, instead branches. Another institution that takes the concept of your local branch is Umpqua Bank, a subsidiary of Umpqua Holdings Corporation. In Portland, Ore.'s South Waterfront neighborhood, the Umpqua Innovation Lab showcases emerging and existing technologies that foster community and redefine what consumers can expect from a banking experience.
The Umpqua Innovation Lab is use as a testing ground for new initiatives, the Lab changes regularly to feature new technology, products, services and community events.
Inside The Lab: Harnessing Technology to Create Community
Product Wall: A 25-foot, interactive, seamless dynamic plasma wall that features touch screen technology, pod casts and community search functionality.
Community Wall: This interactive display wall serves as the store's official community center. It provides information on volunteer opportunities and community events, supports fundraising for community organizations and includes a survey option for users to tell Umpqua which topics they would like to learn more about.
LocalSpace: Umpqua's own social networking site. Designed to connect and assist local businesses in a virtual setting, LocalSpace offers opportunities for mentoring, expert advice, public community calendars and 3-D mapping from Microsoft's Virtual Earth.
Computer Cafe: Features tables embedded with state-of-the-art Lenovo laptops inviting visitors to try out easy-access online banking solutions or simply surf the Web.
Ask an Expert: Uses the Cisco Unified Meeting Place solution to connect customers face-to-face with experts on a wide range of financial topics at any time.
Interactive and In-store Shopping: Browse merchandise from local merchants as well as Umpqua's Discover Local Music CDs, books and other finds.
The Innovation Lab will serve Umpqua's signature blend of coffee as well as customers' choice of a latte, americano or cappuccino at the press of a button.
The Future of Branch-Based Banking
It seems that the increase in online and mobile banking technology isn't going to get rid of branch-based banking after all. Instead, banks are integrating this technology into their branches in order to bring a more enjoyable and complete experience to their customers. To compete with the convenience of online and mobile banking, branches are fast becoming more than just a place you have to go to conduct your banking business, but instead an all inclusive banking experience that makes customers actually enjoy and become involved in the banking process.
Ask a Question