The Faces of Finance: Top Five Financial Advising Personalities
Television news shows have always relied upon specific individuals whose names become associated with their network and the shows that they anchor. From Walter Cronkite to Dan Rather, these popular personalities have become the face and voice of news to millions of Americans. As personal finance becomes a hot topic during this recession, some names have risen to the top of the financial advising world as well, becoming celebrities in the world of financial advising.
Putting a Name to The Show
There are a wide variety of financial advising shows out there, but we have selected the few that combine the two important factors for any financial show; good information and entertainment value. Good financial advisers have to help us make informed financial decisions, but have to be accessible to the common viewer as well, and provide some sort of personal connection. It also doesn't help if you turn your name into a brand through various media and social networking outlets such as your own website or a Twitter account. Here are some of the personalities that we though balanced these factors the best:
1. Suze Orman of the Suze Orman Show (CNBC)
Website: Yes (suzeorman.com)
Twitter Followers: 1,069, 618 (@suzeorman)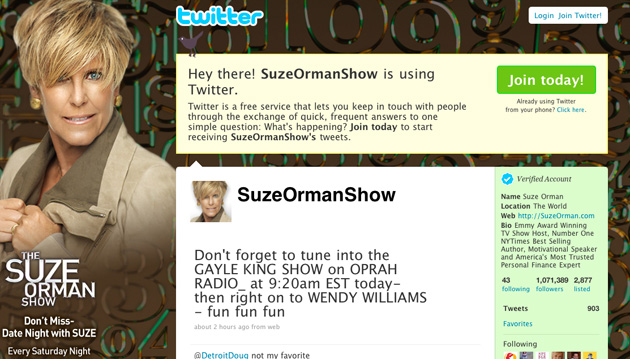 Suze Orman is becoming a household name, partly from her own show where she answers viewer's financial questions and partly due to her many guest appearances on various networks. Her financial advising has grown into a brand name, with her own website, financial tools, books, and a very large Twitter following. She generally gives investment advice on the more cautious side, which is maybe why she is so popular; by taking few risks, she probably has not led many viewers to lose money, even if she hasn't earned them that much.
2. Jim Cramer of Mad Money (CNBC)
Website: Yes (CNBC Profile)
Twitter Followers: 8,057 (@jimjcramer)
Though some people can't stand him, Jim Kramer makes it on our list as being one of the most popular financial advising shows out there. He certainly makes the show entertaining, and actually offers some very valuable information for traders if you can find it through the bells and whistles of his production.
3. Dylan Ratigan of The Dylan Ratigan Show (MSNBC)
Website: Yes (MSNBC Profile)
Twitter Followers: 6,522 (@dylanratigan)
Now the proud anchor of a self-named show premiering this week, Dylan Ratigan was previously the title anchor of MSNBC's Morning Meeting. He is also the chair on the very popular show Fast Money where a panel of advisors give their take on the financial issues of the day.
4. Joe Kernan of Squawk Box (CNBC)
Website: Yes (CNBC Profile)
Twitter followers: Not found
The first spot actually goes to the team of co-hosts on CNBC's Squawk Box, a show that takes a look at pre-market morning news and breaking stories. Joe Kernan, the senior member of the team, is joined by Becky Quick and Carl Quintanilla to bring fast paced yet accessible financial news to the professional and casual investor.
5. Pimm Fox of Taking Stock (Bloomberg)
Website: Yes (pimmfox.com)
Twitter followers : 253 (@pimmfox)
Pimm Fox is the lead anchor of Taking Stock, a popular show on Bloomberg Television that provides in depth analysis of the financial markets. While he frequently has an all star cast of analysts and fund managers and provides great information, it generally passes over the head of the average viewer, meaning it doesn't gain the popularity of some other financial shows. Perhaps because of this, he has fewer Twitter followers, and is less of a name brand advisor.
Finding the Right Advisor for You
There are a huge number of financial shows out there, especially on CNBC, which as you can see takes the top three spots on our list. With so many choices its hard to find a show that provides the right balance and format to provide you with the information you need. However, if you are looking on finding a place to go for financial advice, these five are a great place to start.
Ask a Question