Update: Financial Institutions Pitch in for Haiti Earthquake Relief
The number of financial institutions involved in the Haiti earthquake relief efforts continues to grow, as Discover, Visa and BBVA Compass join the list. Update: Morgan Stanley and Goldman Sachs Bank USA Group Inc. have each pledged a minimum of $1 million dollars in relief aid. Visa Inc. announced a $200,000 donation to the American Red Cross, in addition to matching employee donations and waiving transaction fees for card members making donations to a number of major charities. Discover Financial Services has made a donation of $100,000 for Haiti and is pledging $1 million more through a card member matching program. BBVA Compass is donating $100,000 through an employee and customer matching program. Customers can make their donations at any BBVA Compass branch office. Deutsche Bank's Global Markets Equity Group just announced it will donate all of today's net equity trading commissions to relief efforts.
Following the devastating earthquake in Haiti this week, the financial community is responding with substantial donations for both immediate rescue efforts and long-term recovery programs.
Money and Supplies
Financial institutions are making monetary contributions as well as in-kind donations of services and equipment. JP Morgan Chase and Bank of America® have each pledged $1 million dollars through American Red Cross, CARE and World Vision. TD Bank Financial Group and Wells Fargo & Co. have also donated $100,000 each to the Red Cross. Harris Bank/BMO Financial Group has pledged $250,000, in addition to waiving all fees to send drafts and fund transfers to Haiti through February 12, 2010. Citigroup has joined the relief effort on the ground, sending a team, medical equipment, humanitarian supplies and satellite phones.
Throughout the US, banks big and small are encouraging their communities to get involved. Many bank employees and customers with family in Haiti have felt the direct impact of the earthquake's aftermath, anxiously awaiting news from their loved ones. A number of local bank branches are accepting donations on behalf of major relief organizations from customers and offering to match employee donations. Check with your bank branch to see if they are accepting donations.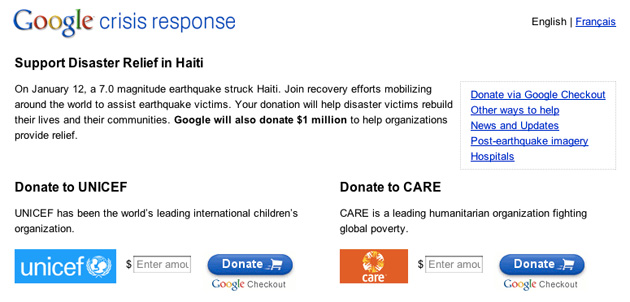 Need for Assistance
Donations for immediate relief will provide temporary shelters, medical assistance and sanitation, while funds for long-term recovery focus on rebuilding infrastructure damaged in the disaster. According to recent figures, an estimated 50,000 people were killed and 3 million will require assistance.
Ask a Question