National 30-Year Fixed Mortgage Rate Dropping Once More to Below 5.50%
It's been and up and down year for mortgage rates, but since the all time low point back at the beginning of December in the previous year, we have seen a pretty steady rise in the national average of the 30-year fixed mortgage rate. However, in the past week it seems to have reached its highest peak, and the rate has started to fall once again.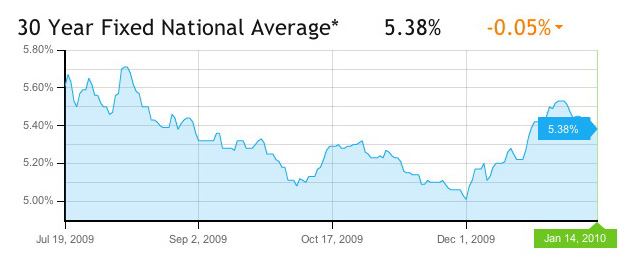 Averages Soar in December
Starting at a low point with a rate of 5.01% on December 1st, mortgage rates across the board saw a pretty steady climb for the month of December 2009. The 30-year average rose 0.52 percentage points by the New Year, but appeared to reach a ceiling in the first few days of January, having made a constant decline weekly since then. This week the rates dipped below 5.50%, settling today on a modest average of 5.38%.
15-Year Rates Show Larger Decline
The turnaround for the national average of the 15-year fixed rate mortgage in the New Year was even more drastic than that of the 30-year fixed, rising 0.45% last month but dropping 0.19% in the first two weeks of 2010.
Why Rates Might Be Changing
It is difficult to pinpoint exactly which one of the many factors are driving mortgage rate changes, but it could be that as the economy starts to improve, as it seems to have been doing so far in 2010, there is more less interest in investors and more in attracting home buyers.
Mortgage rates have to balance the interests of both of their two clients: the investors, who want the highest returns on their investment, and the home buyers, who want the lowest possible rate on their mortgage. When the market is doing well, mortgage lenders can afford to focus less on pleasing investors, and instead focus on attracting borrowers with low rates.
Ask a Question