Average 5-Year CD Rates Inch Up But All Other CD Yields Continue to Slide
Economic reports released Thursday show that key sectors in the US economy are still trying to find their way back from the downturn that started more than a year ago, and that the economic recovery that everyone has hoped for is at best, still in its initial, tentative stages.
Despite a stronger showing in the previous two months, sales for US retailers surprisingly dropped in December, indicating that consumers' wallets may not have opened as wide as analysts had forecast. And as the unemployment rate remains at a near 26-year high of 10%, the US Labor Department also discloses that there has been an increase in applications for first-time jobless benefits last week.
Still, other than the latest disappointing results in consumer spending and unemployment, another major letdown this week is the continued drop in CD rates, with little indication that they'll be bouncing back any time soon.
CD Rate Averages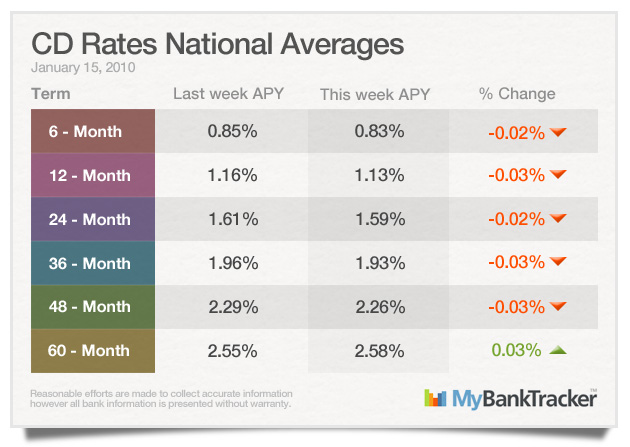 6-month and 24-month CDs
Average rates for 6-month and 24-month CDs both fell by two basis points. For the 6-month term, CD rates slid further away from the 1.00-mark with last week's 0.85% dropping to 0.83% as of today. Two-year CDs at the same time, went from 1.61% to 1.59%.
12-, 36-, and 48-month CDs
Yields for 1-year, 2-year, and 4-year terms saw bigger drops this week, as all three average CD rates went down by three basis points. From 1.16%, 1.96%, and 2.29% last week, the averages are now at 1.13%, 1.93%, and 2.26% respectively.
60-month CDs
The only silver lining in this week's CD rates report is found in the 5-year CD rates average which increased by three basis points, inching up from 2.55% to 2.58%. But then again, this country's savers would not really be keen on having to wait that long just to get decent CD yields.
Bank Rate Hikes and Cuts
This week's CD rate changes were made up mostly of yield cuts and not enough rate hikes.
The steepest rate drops came from Flagstar Direct, which has been sporadically raising and dropping its rates for the past couple of weeks now, Chase Bank, and Capital One. On the other hand, the few rate hikes seen this week were offered by UFB Direct and Onewest Bank, Fsb.
If you want to know whether your bank has raised or lowered its CD rates this week, visit our comprehensive database of CD rates available.
Ask a Question