New Checking Account From Ally Bank Offers Up to 1.15% Interest
Consumers looking to maximize their funds need not look any further than the new Interest Checking account from Ally Bank. Now customers of the online bank can enjoy all the convenience of an interest bearing checking account as well as one of the highest savings rates around.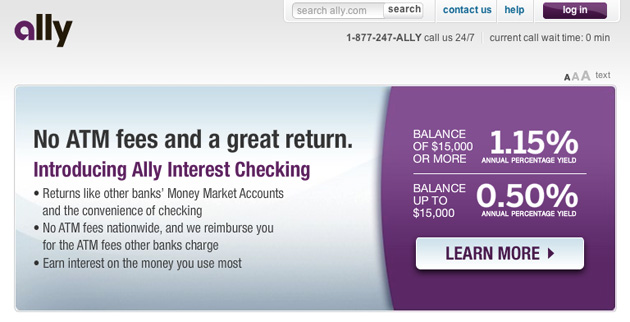 Low Balance, No Fee
The account requires $0 initial deposit and maintaining balance, and offers a minimum rate of 0.50% APY. Balances of $15,000 or more can earn 1.15% APY. What's more, the bank charges no monthly fees, no ATM fees, and even reimburses the fees that you pay at other ATMs.
Other perks of the Interest Checking account include tons of free stuff and value-added services: free online banking and bill pay, free debit card, checks and unlimited check writing, and free overdraft service and balance alerts.
The Convenience of an Ally Debit Card
Even if you're nowhere near an ATM, you can still save time and money by using the cash back option that comes with the account. Just use your debit card at any retailer that offers this option – grocery stores, drugstores, gas stations, and super stores – and get cash back when you shop.
To get more information on Ally's Interest Checking account or to open one, visit the bank's website at Ally.com.
Ask a Question