A Roundup of This Week's Economic News and Best CD Rates
Those eagerly looking to see how the economy turns out in the next few months will have plenty to watch out for in the next few days. In the banking industry, a major issue this week is the release of the fourth-quarter report earnings of big banks — Citigroup on Tuesday, Bank of America®, Morgan Stanley, and Wells Fargo on Wednesday, and Goldman Sachs Bank USA on Thursday. Analysts expect more than a few of these institutions to show record year-end profits that belie the serious crisis that the financial industry has just weathered.
Fate of Small Banks Less Certain
On the other end of the spectrum however, the fate of many small banks and even the not-so-small ones remain to be uncertain, as three more banks were taken over by the FDIC last Friday. This brings the number of failed banks this year to four. Even more unfortunate is the fact that the FDIC was unable to find a buyer for one of the banks in the latest batch, although the majority of the deposits were insured.
Still Bad Climate For Saving
For consumers who have no problem with their banks and are more concerned about getting the most of their savings, it still doesn't look too promising for now. With the Consumer Price Index (CPI) rising less than expected, the Federal Reserve is showing less inclination to raise interest rates any time soon.
Another proof of deposit rates staying at low levels for the next few months at least, is the continued drop in CD rates. The best CD rates this week for instance, have only remained the same for this week at best, while others even slid a few notches further down.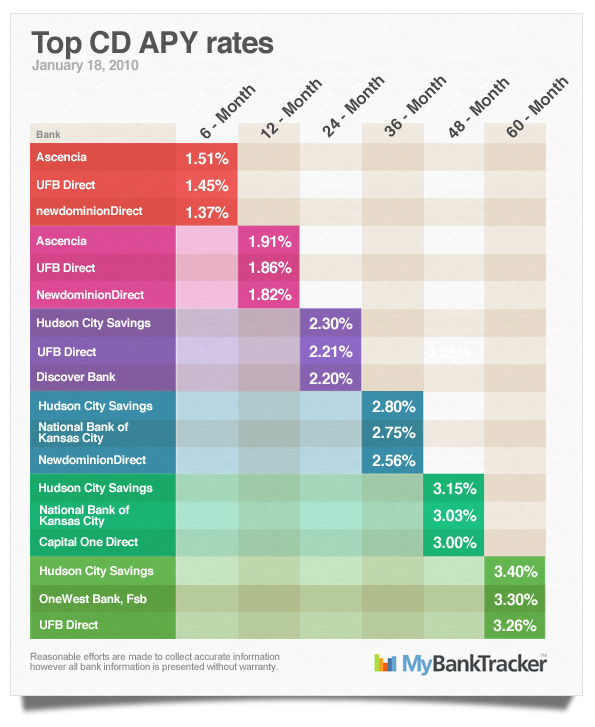 6-month CDs
While the top 6-month CD rate still goes to Ascencia with 1.51%, newdominionDIRECT's 1.50% last week is now down to 1.37%, moving UFB Direct up with the second-best rate at 1.45%.
12-month CDs
As newdominionDIRECT also lowered its one-year CD rate from 1.92% to 1.82%, Ascencia is again the bank with the highest 12-month CD rate offering 1.91%. UFB Direct follows with a rate of 1.86%.
24-, 36-, 48-, and 60-month CDs
For this week, the best CD rates for 2-year, 3-year, 4-year and 5-year CDs remain unchanged from last week's levels and offered by the same banks. Hudson City Savings Bank gives the top rate for all four CD terms at 2.30% (24-month), 2.80% (36-month), 3.15% (48-month), and 3.40% (60-month).
For an updated list of the CD rates in your area and those nationally-available, check out our comprehensive database of rates available.
Ask a Question