Free Tax Filing From Free File Alliance for Mid to Low Income Americans
For people who have some extra cash lying around, paying for someone to do you taxes or buying tax filing software is a great way to save you a little time around tax season. However, for a large percentage of Americans, this is not an option, and they are forced to spend hours filling our tedious tax forms.
Free File Alliance
Thanks to Free File Alliance, in conjunction with the IRS, taxpayers with an annual income of $57,000 or less can now apply for free tax filing services. If your adjusted gross income for 2009 falls within this range, all you have to do is log on to www.IRS.gov and click the Free File button, and you will be able to prepare, complete and file their federal tax returns at no cost.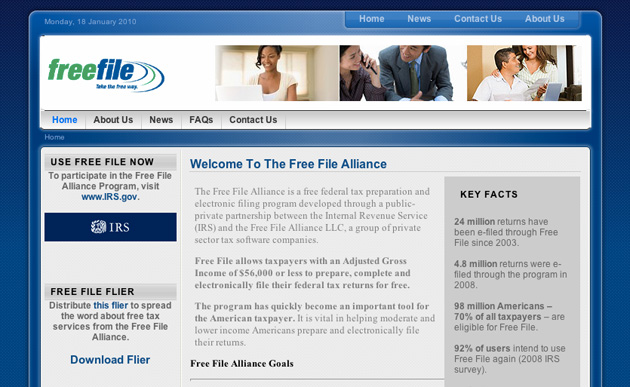 About the Free File Program
The program, which has been around since 2003, is made up of an Alliance of 19 the top tax software companies, including TaxSlayer and H&R Block. You are able to select from any one of these companies when you file your free tax return, who will offer you step-by-step instructions to help you through the tax filing process. The program files 4.8 million returns in 2008, and hopes to match or exceed this number for the 2009 tax returns.
The goal of the Free Alliance is to help the IRS increase the number of accurate taxes as well as the number of taxes that are filed electronically. An estimated 98 million Americans are eligible for the program, or about 70% of all taxpayers.
If you think you might be eligible, or would like to find out if you are, visit the Free File Alliance website here.
Ask a Question