"Txt Ur Bank": How Banks Are Incorporating SMS into Mobile Banking
As anyone walking through a crowd of high school student might notice, texting is one of the most popular forms of communication among young people. It makes sense; it's a quick and easy way to keep in touch, not to mention easier to send in class than traditional note passing. However, as these teens become financially independent, banks are looking for a way to tap into their favorite mode of communication in order to attract this population of new customers.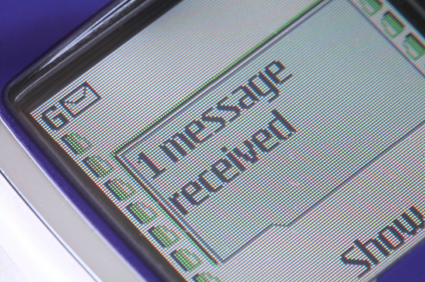 Texting Outpaces Calls
As Generation Y grows up, they are bringing their mobile phone habits with them. A mobile text messaging study by Nielson's Mobile shows that the number of text users has grown every year since 2003, jumping over 4 million to 96.2 million users in 2009. Of these users, 24% are in the 24-34 year age range, making them prime candidates to become new bank customers.
What is interesting about this study is that despite new innovations in phone technology, texting use has still been growing exponentially, with the number of texts sent almost doubling every 6 month period from June 2007, with 75 billion texts sent in June of 2008 alone. This is not just due to the fact that the number of mobile phones are increasing; the average number of calls remained relatively unchanged from 2006 to 2008, while the average number of texts sent has increased 5 times.
Any companies watching these numbers, including banks, are scrambling to figure out a way to take advantage of this form of communication in the growing market of young adult mobile phone users.
SoundBite Communications
Previously, mobile banking SMS capabilities were limited to one-way alerts from the bank to the consumer, giving them updates on balances and monthly statement information. However, this information was usually very general, and didn't allow for the consumer to respond with more specific questions.
In order to fill this gap in mobile banking communications, a company called SoundBite Communications is offering new mobile software that allows customers to respond to the bank using a specific 5 digit code. The system will automatically respond to the consumers' request, and will also transfer your question to an agent if the request requires additional attention. In essence, these programs will eventually provide all the convenience of online chat help services from your mobile phone.
Competitive Industry
Although SoundBite has an innovative texting solution to mobile banking, it is a newcomer in a field which has already seen quite a few leaders who hold a great deal of the market. Products like ClaireMail and SyBase have multi-faceted approaches to mobile banking communications, that include text alerts, but as of yet the 2-way texting on these systems is limited.
Future Innovations In SMS Banking
Though some people see SMS as ancient technology now with the advances in mobile phone technology making mobile web and banking applications more available to the public, but texting has been proven to prevail as a favorite mode of communication amongst mobile phone users.
With the rise of Twitter, in conjunction with geo-location capabilities on new phones, there are a variety of possibilities for new mobile banking. Some banks do have Twitter accounts, allowing them to send out news and offers to their customers. Location services let users find banks, but could also in the future be used to locate customers who are having trouble with an ATM or even have been the victim of a crime, giving updates on where a card has been used, and even combating identity theft by requiring a text verification before making a point of sale transaction.
What mobile banking has in store for us will be interesting to see, but from the looks of it, texting is here to stay.
Ask a Question