Wells Fargo Features Notable Women in Financial History
Brought to you by the good folks at Wells Fargo, Women Making Financial History is an exhibit that explores the topic of women and money from the frontier to the present. The exhibition features women's roles in managing money, earning money, and investing money — then and now. Currently the exhibit can be viewed at the Wells Fargo History museum in San Fransisco, CA.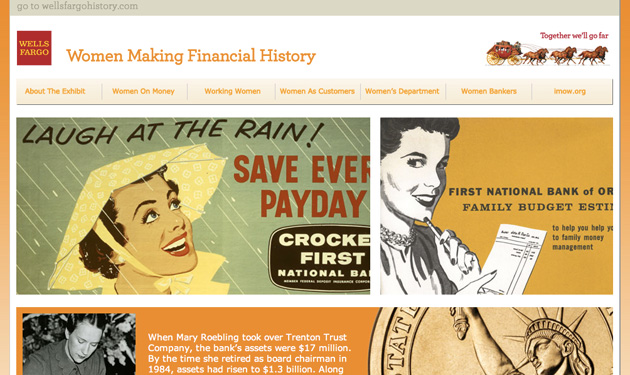 A History of Banking
The exhibits includes:
A 1920's banking space, where you will have the opportunity to try out old banking machines and technologies.
Learn about women in the banking industry, as customers and as bankers.
Prominent women in Wells Fargo's history, and their work with customers since gold rush days.
Woman and financial advertising – vintage TV and radio ads.
A money vault, with historic and contemporary currency made by women at the US Mint and the US Treasury.
Your opportunity to create your own currency, with digital photo technology.
Contemporary issues of women in the global economy.
If your like us and trips to the west coast are not currently on the itinerary, then make sure to visit the custom micro site for the exhibit online.
For more information and up coming exhibits at one of the nine Wells Fargo museums, visit the Wells Fargo history website here.
Ask a Question