Ally Bank Offically Announces New Interest Checking Account, Challenges Its Competitors
Earlier this last we published an article announcing a new checking account coming from Ally Bank, and today the bank has officially released details on their new Interest Checking product, which will compete with online banks such as ING Direct, ETRADE and Capital One Direct for the online checking market.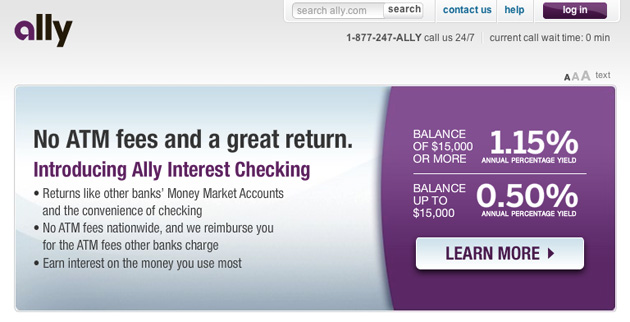 Online Checking
It is no surprise that Ally, the fastest growing online bank in the country, would eventually expand its products to include checking, as many other online banks have already offered their customers a checking as well as a savings product. Ally, however, challenges these other banks by bringing consumers a checking account with no minimum balance, while still offering a 0.50% APY, a rate that is higher than the current checking accounts offered at ETRADE, ING Direct, and Capital One. If customers hold more than $15,000 in their account, the APY goes up to 1.15%, one of our highest rates.
The Ally Promise
Even though Ally came later to the checking game, they took their time and did their research, which could pay off for consumers.
"We've really done our research and listened to customers to develop a product that puts the customer first," said Sanjay Gupta, the CMO at Ally. "We're developing our products with the philosophy that we are a financial partner with our customers and we're making money with them-not off them."
It has been this transparent, straightforward approach to banking and a commitment to customer service that has helped Ally become a top competitor among online and branch based banks alike. Offering services like free checks, free online bill pay, no fees and free transfers and overdrafts, Ally's Interest Checking is sure to gain the attention of consumers looking for a online bank with high rates as well as the convenience of a checking account.
To learn more about Ally Checking, visit the website here.
Ask a Question