New Personal 401K Tool from BrightScope Helps Employees Maximize Retirement Savings
Do you know how much you are spending on fees for your 401k? If not, you're not alone; according to BrightScope, Inc., 80% of workers don't know how much they pay in 401k administrative fees. In order to help employees get more insight into their retirement plan, BrightScope has announced their new Personal 401k Fee Report.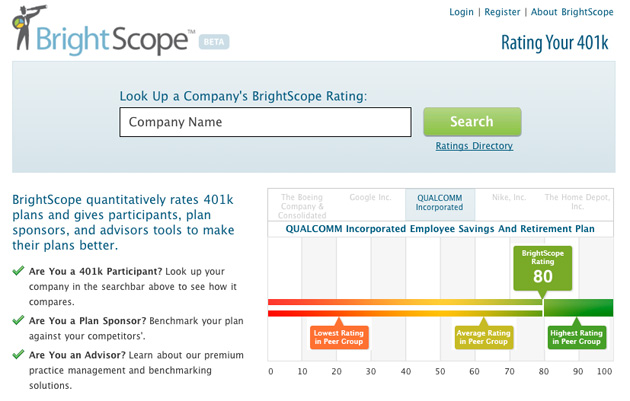 Find Your Plan
The BrightScope Database holds information on over 30,000 different companies 401k plans, allowing employees to find all kinds of useful information on their specific retirement plan that will help them maximize the benefits they receive. The site shows a clear breakdown of the matching benefits and employee contributions, including what is being spent on fees.
Each plan is also given a BrightScope Rating, which gives the plan a score based on a comparison with other companies policies. There are also "flagged" discrepancies between the plan being viewed and the top rated plan in a group of similar plans, calculating figures like how many more years you have to save with this plan, or how much less money you will have after retiring.
Making Your 401k Compete
This service can be good for both companies and employees, as long as the company is offering the best plan they can. This is obviously a website that benefits the consumer, as they are able to compare their plan against other companies and use this as leverage against their own company. There is even a button that you can click that encourages you to contact your plans administrator if you think it could be improved.
For companies, however, this can be a great place to brag about your retirement plan, letting you place your plan on a scale from 1 to 100 against other companies. Businesses known for their god retirement packages like Google (BrightScope Rating: 84) now have a number to put to their benefits, and dissatisfied employees at other companies can at least look to see what they are missing, ad where they are paying.
Ask a Question