Recurly Makes Billing Easy for Businesses With Subscription Services
For companies struggling to find a way to streamline their subscription billing process, Recurly, a payment systems startup, has launched a new service for beta testing that has already become popular with companies in the US and worldwide who want a fast and easily implemented billing solution.
Subscription Billing Made Easy
Recurly aims to save businesses time and money by handling all of your subscription billing needs so you can have time to focus on the other important aspects of your business. Some billing services can be time consuming to set up and implement, but Recurly offers two options or fast set-up, so you can have the convenience of a billing service without having to deal with the hassle of a long set-up.
Just because it is easy, doesn't mean Recurly sacrifices features. Their platform lets you choose from a variety of flexible subscription options, allows customer upgrades and cancellations, and even free trial periods and promotions.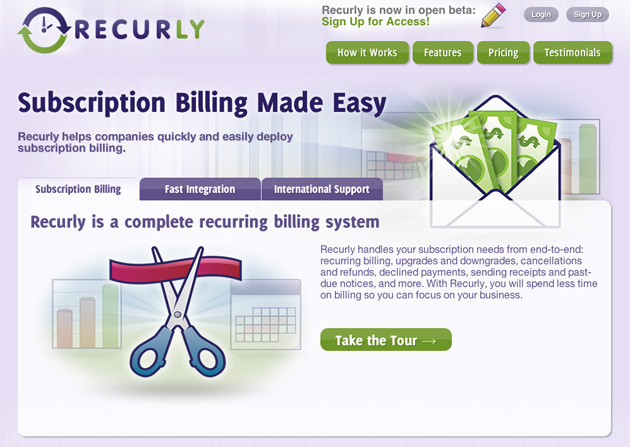 Hosted Pages for the Non-Developer
Recurly realizes that not every business owner has the time or knowledge of development to set up their own payment pages. Their hosted pages allow you to set up a subscription payment service over their site with templates so you can start collecting from your customers without having to code any webpages. They alternately allow you to put a label on their application programming interface (API) service, so that customers will never have to leave your site when paying bills.
The Recurly platform supports a variety of different payment gateways, including PayPal, Authorize.net, BrainTree and others, so you can integrate whichever payment gateway that suits your business best while still taking advantage of the Recurly API.
Customer Analytics
Another great service provided by Recurly are customer analytics, which give you an edge by tracking customer turnover rates and mapping many other trends to see what businesses practices give you the best results with your consumer base.
For more details on the features Recurly offers, visit their website here.
Ask a Question