CD Rate Averages This Week Get an Unexpected Boost While Banks Report Big Profits/Losses
This week, major financial institutions one by one revealed their bank earnings for the last quarter of 2009. Some saw their fortunes rise with Chase Bank leading the pack with a $3.28 billion income for the fourth quarter, while Morgan Stanley and Wells Fargo earned $617 million and $394 million respectively. Citigroup meanwhile, registered a staggering $7.58 billion loss during the same period although $6.2 billion of that is related to its payback of TARP loans, and finally Bank of America® rounds up this week's Q4 report earnings, also declaring a fourth-quarter loss of $5.2 billion.
Financial Industry Still Cautious

Taking a close look at these figures, it doesn't take much for one to figure out that the financial industry is not yet so far out of the woods. Even JPMorgan Chase, which emerged as the top earner, acknowledges that losses from troubled mortgages and poorly-handled credit card accounts remain high, and that caution is still the best strategy for now.
For the average consumer though, the main concern right now is whether the big banks' performance for the past quarter will affect deposit rate trends for the next few weeks. Let's see how CD rate averages fared for this week: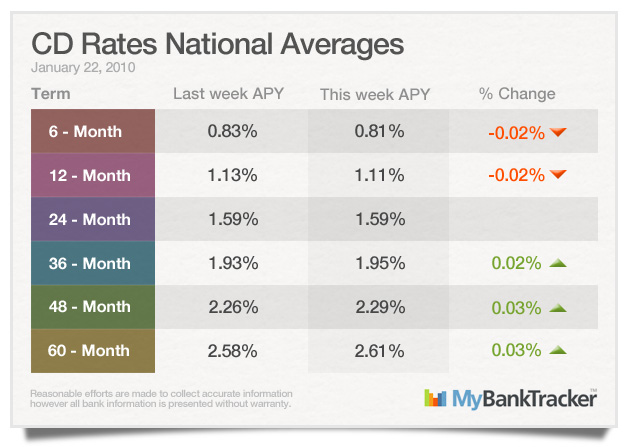 CD Rate Averages
6-month, 12-month, and 24-month CDs
After week after week of CD rate drops, it's not surprising to see that short-term CD rates, particularly 6-month and 1-year CDs have yet again fallen, both by 2 basis points each. The average CD rate for 6-month CDs was reduced from 0.83% to 0.81%, while for the one-year CD, the rate went from 1.13% to 1.11%.
Yields for the 2-year CDs however, were maintained at 1.59%.
36-month, 48-month, and 60-month CDs
While the earnings results were, for most of the banks, worse-than-expected, yields for the 3, 4, and 5 year CDs didn't disappoint as they all moved up after being on a downtrend for many months now. Could long-term CDs be the better option as of now?
Average CD rates for the 36-month CD increased by 2 basis points, from 1.93% to 1.95%. At the same time, 48-month and 60-month CD rates each took a 3-basis point hike, moving up from 2.26% to 2.29% and 2.58% to 2.61% respectively.
Bank Rate Hikes and Cuts
This week saw more than the usual CD rate hikes but still with the usual rate drops.
Among those which helped pull up CD yield averages this week were online banks Ally and Ever Bank, and Valley National Bank. The steepest rate drops on the other hand, came from Astoria Federal and newdominionDIRECT.
If you want to know whether your bank has raised or lowered its CD rates this week, visit our comprehensive database of CD rates available.
Ask a Question