RBC Bank Makes Predictions For Apple Tablet Revenue
With only a few days until the anticipated announcement of the new Apple tablet, investment banks are making predictions as to how much the new device could influence Apple's revenue and stock prices. Royal Bank of Canada announced their estimates today, based on a first year sale of 5 million units.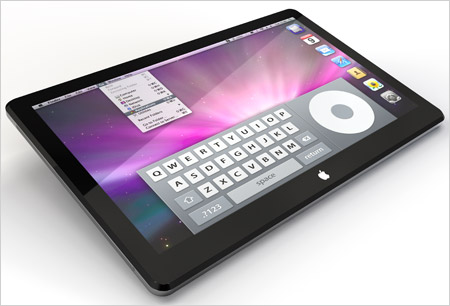 Multiple Scenarios
The prediction, calculated by Mike Abramsky of RBC Capital Markets, looked at a few different ways in which Apple could decide to market the product. The first scenario, which sets the price of the tablet at $600, would most likely sell around 5 million units. Taking into account that the new device might cut into notebooks and iPod Touch sales, Abramsky believed that this would add $0.30 t Apple's stock, or around $2.8 billion in revenue for the company.
A second scenario, which sees the tablet as a "niche market" product, raises the price to $800, and unit sales to 1 million, causing Apple stock to jump just 12 cents. However, if the company can lower the price to the more affordable $500, it would become a "hit" product, appealing to a wider audience with10 million units sold. This would bump up Apple stock as much as $0.42, a $4.2 billion increase in revenue.
Creating a Need
Rather than capturing just the traditional tablet market of a million or so, Abramsky expects Apple to, as it has before with the iPod and iPhone, to redefine the tablet and make the product a "must have" device. A great deal of how widespread it becomes will be how much they can dial down the price, and because of this, there could be a subsidized cost like that of the iPhone, where a wireless provider requires a plan but offers the device for a lower price.
Abramsky predicts there to be both a Wi-Fi only and a 3G option, but says that Apple will almost certainly make sure that the tablet not run on OS X so that it does not cut into or replace the sale of their traditional notebooks.
Ask a Question