Responsibility Pays: Socially Responsible Investment Funds Outperforms Benchmarks in 2009
Those who believe in the saying that "no good deed goes unpunished" may have to reconsider, after a report published by Thomson Rueters shows socially responsible investments (SRIs) may in fact fare better in the market than the average mutual fund.
Social Investment Forum
The funds involved in the study were a selection of 160 funds from the Social Investment Forum (SIF), a non-profit association of organizations dedicated to socially responsible investing. SRIs incorporate certain environmental, social, and corporate governance criteria when making investment decisions, as well as he standard financial analysis.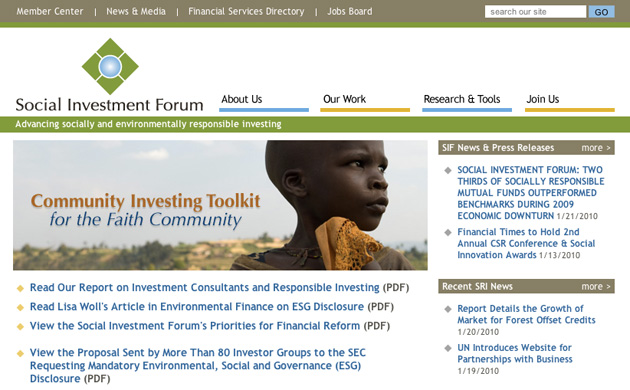 The data collected by Thomson Rueters shows that throughout 2009, SRIs regularly outpaced benchmark funds, often by significant margins. According to the study, 65% of the funds studied fared better than non-socially responsible focused funds.
"This analysis underscores the reality that socially responsible investments offer what are genuinely competitive returns," said Cheryl Smith, chairman of the board at SIF and president at Boston-based Trillium Asset Management Corporation. "In fact, the 2009 data show that SRI funds specializing in large cap stocks have turned in an extremely strong performance that outpaced the S&P 500 over both the short term and the long term."
Some SRI Considerations
Socially responsible investing has the potential to become an important field in the next few years, especially as consumers start to question and consider the morality of those on Wall Street after this talk of bonuses and shady mergers during the recession. Over half of SIF funds consider the executive pay practices of companies when making their investment decisions. Other considerations include climate change issues, environmental protection, community development and involvement by the companies involved, and certain industries like tobacco are almost completely excluded.
Ask a Question