Citibank Adds Credit Card Capability to Their iPhone Mobile Banking App
Citibank has been working on building a powerhouse of an app for iPhone, adding more and more features to what is now a fairly comprehensive mobile banking service for the device. The latest addition to the Citi Mobile suite allows credit card user to access and manage their credit card accounts from their mobile phone.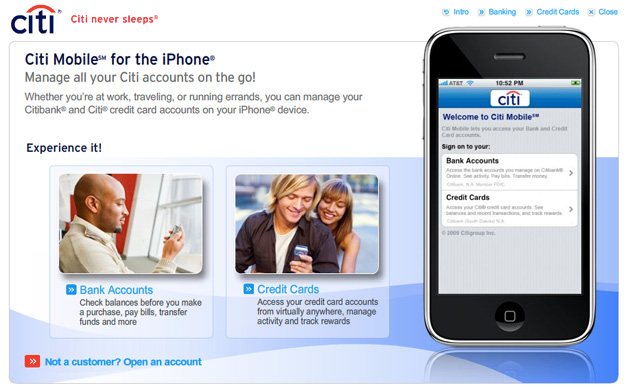 Keep Up to Date With Credit Purchases
The ability to constantly know the status of your credit card account is an important feature in a mobile banking app, as many people who use their cards often or have multiple cards can have difficulty keeping track of how often they swipe. The credit card function of the Citi Mobile app allow consumers to avoid costly overcharge fees and keeps them from outspending their budget by providing information on available credit at the tap of a button.
Citi Mobile Continues to Innovate
Citibank was one of the first of the larger US banks to develop a mobile banking application for the iPhone, and have been consistently upgrading the app in order to make it a comprehensive banking tool for the Citi customer on the go. Building on the success of online banking, Citi is constantly looking for ways to provide more convenience and support to its consumers.
Another innovative features that Citi has provided its mobile customers are text requests for balances and transaction history, which improves upon the convenience of online banking with a capability that is exclusive to the function of a mobile phone.
Ask a Question