2nd Term for Fed Chairman Ben Bernanke Not A Shoo-In After All
Reports from Washington are rife with rumors that Ben Bernanke's reconfirmation for another term as Fed Chairman is in doubt. In the face of an unstable economy, high unemployment, and sharp criticism against Wall Street practices, Democratic Senators are feeling the heat, especially with the recent surprising loss of a Senate seat in Massachusetts, a longtime Democrat stronghold, and mid-term elections coming in November.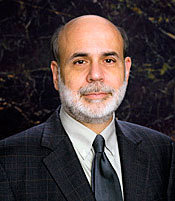 Election Pressure
At least four Senate Democrats have already expressed their decision to block Bernanke's confirmation for a second term, with Sen. Barbara Boxer (California) and Sen. Russell Feingold (Wisconsin) being the last to take this stand.
"It is time for a change," Sen. Boxer last Friday. "Our next Federal Reserve chairman must represent a clean break from the failed policies of the past."
The vote on the renomination did get a boost however, as Senate Majority Leader Harry Reid (D-Nev.) expressed his support for Bernanke, saying that the Fed Chairman should be given credit for "what didn't happen" – a second Great Depression.
"Chairman Bernanke has worked hard to strengthen the economy in recent months by making critical loans available to millions of households and hundreds of thousands of businesses both large and small," Reid said.
A Close Call
Still, several Democrats in the Senate remain noncommittal, giving rise to speculation that Bernanke's 2nd term, once thought to be a given, is not such a sure thing after all. A senior Democratic leadership aide said that the Fed Chair will most likely get the votes he needs, although "it's going to be very close."
The Senate needs a super majority of 60 votes in the 100-member house to move the nomination.
Stocks Take a Plunge
With uncertainty looming over Bernanke's fate as Fed chairman, stocks took a fall Friday, capping a week in the stock market that has been wrought with uncertainty over the future of the economy. The Dow Jones industrial average had plummeted 4% over the past four days. The S&P 500 entered the red territory as well, joining the Dow and Nasdaq indexes. And seeking refuge from the turbulence in the market, investors flocked to government bonds.
If the Fed Chairman's confirmation is not successfully passed, Wall Street executives and economic analysts fear a stock market slump. "A decision to kill the Bernanke nomination will cause a large and disturbing upset in global financial markets," said economist Joseph Brusuelas.
Bernanke's current term expires on January 31 and the Senate is expected to decide on the matter sometime this week.
Ask a Question