Chase Community Giving Facebook Campaign Announces Invisible Children, Inc. as $1 Million Winner
Thousands of charity organizations and millions of fans have been watching the Chase Community Giving program on Facebook this past month to see who will be announced as the winner of the $1 million grand prize. Chase announced the winner today, as well as the 5 runners-up who receive $100,000 each.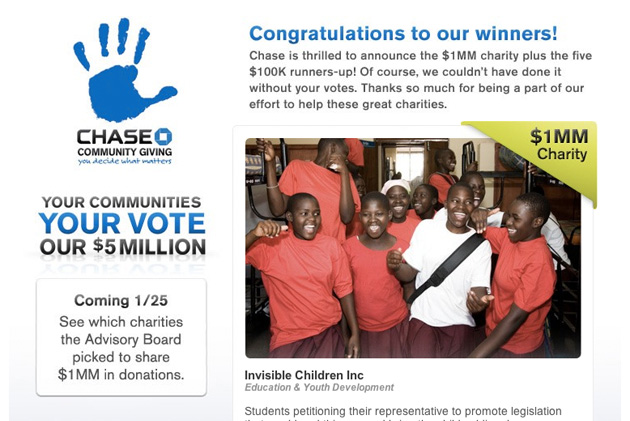 Invisible Children, Inc.
The winning charity, Invisible Children, Inc., began as a film made by three Americans who traveled to Uganda and documented the horrible conflict that has been going on there for over 20 years. Their documentary, Invisible Children, focused particularly on the use of children as child soldiers by the Lord's Resistance Army (LRA), a militant group that has been rebelling against the Ugandan government since the mid-1980's. It is estimated that since 1987 over 30,000 children have been abducted and forced to become either soldiers or wives for the LRA.
The aim of Invisible Children, Inc. is to spread the word about the conflict and help to bring some normalcy to the lives of a generation of children that have never known peace. Through donations and spreading awareness, the organization has helped to build schools and implement micro-finance programs to jump-start local economies. The organization hopes that by offering children opportunities for education and rebuilding their communities, they will be able to stop the cycles of violence that have developed out of the conflict.
The Runners-Up
Invisible Children, Inc. expressed extreme gratitude to all who voted for their charity, saying that $1 million in funds from Chase Community Giving will greatly advance their cause and providing schools and other capital building projects for the communities in Uganda. The other charities, who will receive $100,000 each, are Isha Foundation, Inc., Twloha, Inc., Friendship Circle, Bridge to Turkiye and the Gwendolyn Strong Foundation.
For more information on Invisible Children, the runners-up, or Chase Community Giving, visit the Facebook page here.
Ask a Question