Survey Shows Economy Slowly Headed for Recovery But Best CD Rates Show No Improvement
According to a recent survey made by the National Association for Business Economics (NABE), US companies are planning to hire people and spend more this year. With sales and profits up for the 2nd quarter in a row, the country may be closer to seeing the end of the drought in the jobs market than previously forecast.
Certain Industries See Higher Demand
The fall of 2009 also saw an increase in demand in certain industries such as manufacturing, finance, and real estate, while in the transportation sector, there are fewer declines in growth. The credit market is also thawing slightly, with only 35% of survey respondents saying that credit conditions are negatively affecting their business — down from 42% the previous quarter. This piece of news certainly comes as a welcome breather to a constantly battered economy struggling with an unemployment rate of 10% and a financial industry in disarray.
But if the economy is finally showing more signs of being on track to a full recovery, shouldn't we be seeing an improvement in deposit rates as well? As of this week, the trend shows otherwise as our roster of the best CD rates for today show some disappointing cuts from the previous week's CD rates.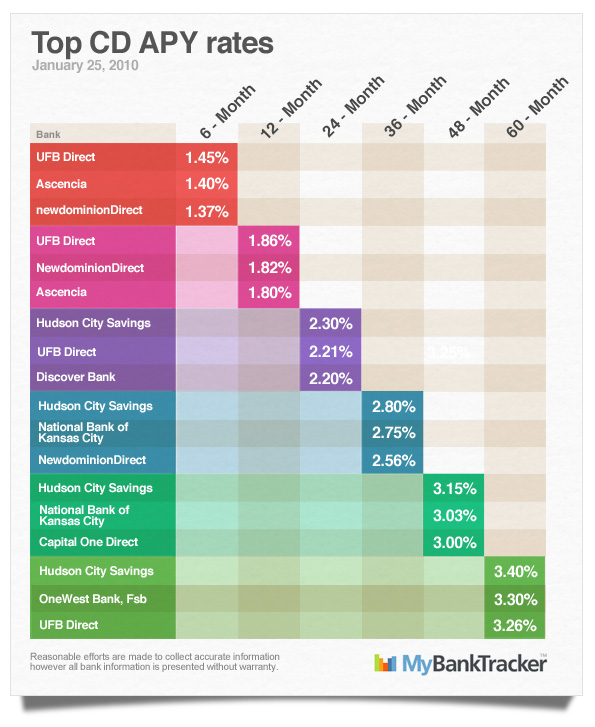 6-month CDs
Online bank Ascencia, previously at the top of the charts for CD yields, made an 11-basis point cut of its 6-month CD rates — from 1.51% to 1.40%. UFB Direct now has the best rate for this term with a yield of 1.45%, while newdominionDIRECT rounds out the top three list at 1.37%.
12-month CDs
Making the same cut of 11 basis points to its one-year CD yield, Ascencia dropped to the third best CD rate for 12-month CDs at 1.80% (1.91% last week). The top spot is now held by UFB Direct with 1.86%, followed by newdominionDIRECT with 1.82%.
24-, 36-, 48-, and 60-month CDs
With short term CD rates continuing to fall, and longer term CDs remaining steady at the very least, and even increasing in some case, depositors may find 2-year, 3-year, 4-year, and 5-year CDs a better option right now.
The best CD rates for these terms have remained constant over the past month already, with Hudson City Savings Bank leading the pack for all four terms. The bank is offering 2.30%, 2.80%, 3.15%, and 3.40% for the 24-, 36-, 48-, and 60-month CDs respectively.
Other banks that offer competitive rates for these terms are UFB Direct, newdominionDIRECT, Discover Bank, Onewest Bank, and National Bank of Kansas City.
For an updated list of the CD rates in your area and those nationally-available, check out our comprehensive database of rates available.
Ask a Question