John Hancock Financial Celebrates 25th Year as Boston Marathon Sponsor With New Twitter Page
The Boston Marathon, the oldest annual marathon in the world, will celebrate its 114th anniversary this April. Long time sponsor John Hancock Financial, which became the main sponsor of the event in 1986, will celebrate its 25th anniversary as sponsor by creating a Twitter page.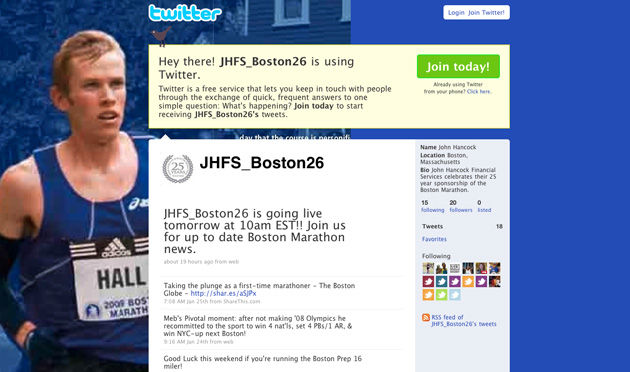 A Twit-athon
The Twitter page, @Jhfs_Boston26, will track the progress of the marathon and give updates on the race and related activities to fans and participants of the event. They will tweet about the partnership between John Hancock Financial and the Boston Athletic Association, its non-profit Bib Program, the Employee Running and Fundraising Program, Marathon Community initiatives, and much more. It will also include information about the marathon world in general, and some of the top athletes participating in this year event.
John Hancock's Sponsorship
Each year, John Hancock has provided over $13 million in prizes and awards to marathons participants, ensuring the continuation of the event. This year, the winning purse is $806,000, with $220,000 going out to other runner for performance bonuses.
Of course, a big part of marathons is the involvement with raising money for charity, and John Hancock has also participated in this aspect of the event with its non-profit Bib entrants, who last year were able to raise $3.7 million in charitable donations.
An Important Event for Boston
The total value that the Boston Marathon brings to the city of Boston and the surrounding communities has been estimated to be around $110 million a year, and John Hancock is proud to be one of the major sponsors who helps to make this event possible.
"John Hancock is proud that their financial commitment and partnership with the Boston Athletic Association helps the City to continue to host one of the world's premier marathons," said Rob Friedman, head of Sports Marketing at John Hancock.
Ask a Question