StockTwits: Becoming the Center of Real-time Investing News
StockTwits, a real-time platform that harnesses the social networking power of Twitter, represents a new age in which we no longer experience the ups and downs of the stock market by reading the newspaper and watching the television. This startup presents a way for investors and traders to track conversations about stocks through the popular microblogging platform.
StockTwits' success lies in investors who share stories and ideas about their investments in 140-character tweets – an exchange of information that occurs in seconds.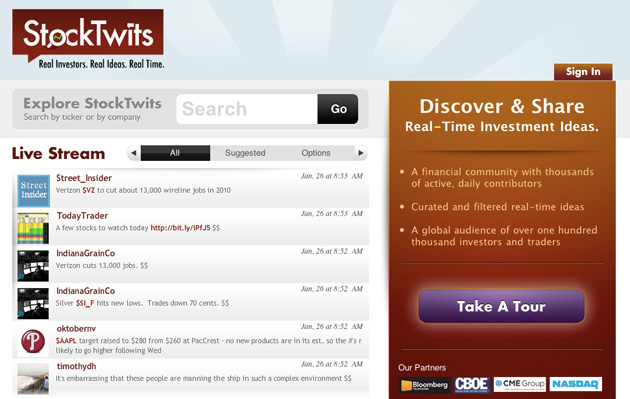 A Startup on the Rise
Ever since its launch in October 2008, StockTwits has built a community of thousands of active contributors along with an audience of over 100,000 users engaged in Twitter babble regarding investing topics that include market news, stocks, options, futures, and forex. As with any company, the founders of StockTwits sought growth and expansion through acquisitions and partnerships.
With a total funding of $4.6 million from venture capitalists to date, StockTwits has made a few key additions that reinforces their drive for the real-time exchange of information. Chart.ly, an acquisition made by StockTwits in May 2009, compliments the Twitter chatter of investors by allowing users to share stock charts that support their stock picks and investment ideas. Most recently, StockTwits acquired Abnormal Returns – a site that has been praised for rounding up daily links to some of the most interesting investing articles available online.
Exposure Through Major Sponsorships
Active traders on StockTwits are responsible for tens of thousands of daily tweets about stocks. Its major selling point is the constant feed of ideas among investors and traders that never existed because they've never found a place to do so. The activity levels matches the intensity that can be found on the floors of the New York Stock Exchange on Wall Street.
Major financial organizations have found these traders as a target group within StockTwits that has led to partnerships with these select few: Bloomberg, the CME Group, the CBOE, and NASDAQ. StockTwits makes an appearance in Bloomberg's professional stock trading terminal by adding a chat component to an otherwise obsolete trading experience. NASDAQ, the American stock exchange, released an iPhone application where users can eavesdrop on the conversations going on regarding a specific stock – that's to the integration of the StockTwits platform.
Interactive Investing in the Future
StockTwits has introduced a new way to participate in the stock market. The minds behind StockTwits plans on adding video commentary, increased usability of their StockTwits Desktop application, and expanding their mobile presence. As the company continues to grow, StockTwits holds a prominent position in social media that brings investors together.
StockTwits, Chart.ly, and Abnormal Returns are not sources of professional financial advice nor do they endorse the trade and investment recommendations made by their users. Seek a professional financial advisor before investing.
Ask a Question