The Rise of Mobile Charity: New iPhone App From BMG Tracks Charitable Gifts and Donations
The public response to the disaster in Haiti has been huge, and a great deal of the donations and aid has been made possible through texting and mobile internet. A Red Cross campaign, which asks cell phone users to text a number in order to donate $10, has raised over $24 million in just the past few weeks.
BMG Certified Public Accountants, taking into account the surge of charitable giving over mobile phones, has developed an iPhone App that allows donors to calculate, track and report their charitable donations.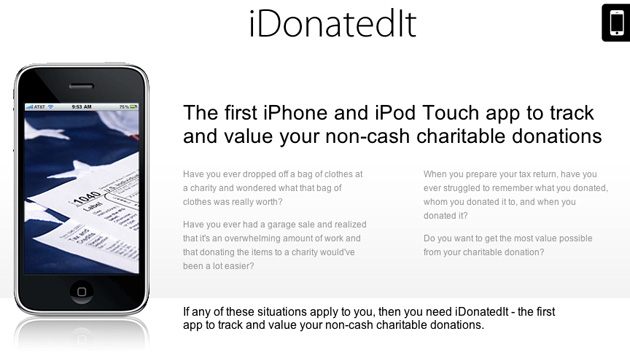 iDonatedIt
The application, iDonatedIt, allows you to not only keep track of your cash donation, but also estimates the value of non-cash donations such as clothing. The app, which is available on the iTunes store for $2.99, assigns fair market value to your non-monetary donations, and creates a permanent record of all donations.
This can be very helpful during tax season, when you have trouble remembering how much and what money you have spent that is eligible for a charity tax write off. The app also lets you email a copy of your donations to your accountant, so they can be automatically deducted from your taxes.
Easy IRS Compliance
The IRS has certain guidelines in order to claim non-cash donations on your tax returns. The iDonatedIT app makes it easy to comply with these rules by making it easy for you to record the necessary documentation on the donated items, including the option to take a picture of the donation to verify the quality. Non-cash donations must be in "good" condition in order to be claimed.
For more information, visit the BMG application website here, or search for it on the iTunes store.
Ask a Question