Steve Jobs Says Apple's iPad Tablet is the "Best Browsing Experience You've Ever Had": But Does it Have Flash?
After much (much) anticipation, Steve Jobs has finally gone public with the long awaited Apple tablet, which has been named the iPad. First images coming out from the Apple conference, taking place now at the Yerba Buena Center for the Arts in San Francisco, show a rectangle slightly boxier than an iPhone that appears to run a mix of the iPhone OS and Mac OS X.

Some Hot off the Press Details
The touchscreen, which will let you flip through media like on the iPhone, is bigger, allowing for easy viewing of HD quality video, but is "much more intimate than a netbook," according to Jobs, who sat on a couch to demonstrate how easy it is to use the iPad as a true lap-top device.
One question that bloggers have raised over the device came when Jobs opened up Safari on the device, displaying a "missing plugin error" that has become familiar with iPhone users trying to access web-based content with flash content. This has caused many attendees to ask, perhaps prematurely, whether or not the iPad will be able to support flash.
More specs:
Half an inch thick; 1.5 pounds; 9.7 " IPS screen; 1GHz Apple A4 Chip; 16GB; Bluetooth 2.1; Speaker; Mic; battery lasts 10 hours.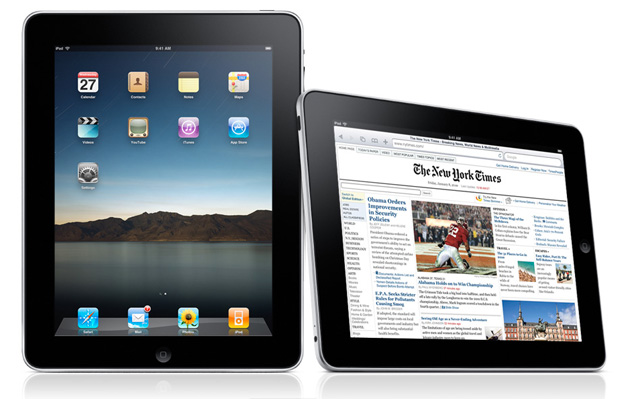 The Basics
So far, it seems that the iPad will have a dock similar to Mac OS X, but will have access to the Apple store and allow for touchscreen browsing, which allows the iPad to become an e-reader as well. Other than that, and the big screen that makes it great for viewing online video content, the iPad looks and appears to act like a big iPhone. As more info comes out though, we are sure to find a bunch of key tasks that the iPad is ideal for.

Most interesting for us here at MyBankTracker.com is the price, and how the affordability of this new device will affect Apple stock. Predictions earlier this week by RBC Bank show the iPad influencing Apple shares to jump anywhere from $0.12 to $0.42, depending on how wide of a consumer base it is able to attract.
Ask a Question