USAA Mobile Banking App Goes Android
The popular USAA mobile banking app that was previously only available for the iPhone, is now offered on the Google Android Market.
USAA Looks to Future Smartphone Market
Seeing as how mobile phones running on the Android system are fast gaining hold on the smartphones market especially with the much talked about launch of the Nexus One phone from Google, USAA also developed a version of the application for Android mobile devices. This will allow the bank's more than 1.2 million mobile customers to avail of USAA's mobile banking services using their Android-supported phones.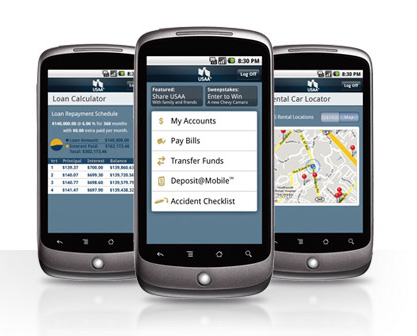 The bank first introduced the USAA Mobile APP for the iPhone in May of 2009, and shortly thereafter in August, the Deposit@Mobile feature. The added feature enabled USAA customers to deposit their checks even on the go with the use of the mobile app and a snapshot of the check using the iPhone's camera. Since then, the mobile tool has been used by members to channel more than $300 million worth of deposits into their USAA accounts.
Mobile Banking a Necessity for USAA Customers

USAA members are mostly military personnel and their families who are often deployed in remote areas of the country. This makes the mobile deposit service system most convenient for the bank's 7.3 million members, 1.2 million of whom are already actively using the banking app.
In a statement released last January 23, Jeff Dennes, USAA's executive director of mobile technology said, "The popularity of USAA's mobile platform clearly demonstrates that USAA members are comfortable using this technology and welcome the convenience it offers."
Dennes also said that by making the mobile banking app accessible to both iPhone and Android smartphone users, "going to the bank to deposit a check soon may be as antiquated as black-and-white TVs."
Android-supported phones currently make up for about 13% of all smartphones in use as of November 2009. The user can download the mobile banking app for phones running on Android Version 1.6 or higher.
Ask a Question