Bernanke Gets Reappointed, Apple's iPad is Launched, and CD Rates Rally This Week
A lot of things transpired this week with Ben Bernanke's reappointment as Fed Chairman finally coming through after a brief period of uncertainty, Apple's launching of its much-hyped about iPad which sent the company's stocks into overdrive, and President Obama first State of the Union address where he acknowledged the challenges that the nation still faces and called for bipartisanship among the country's political leaders.
Interest Rates Stay Low
One thing that remains unchanged however, is the Fed's resolve to keep rates at extremely low levels. Even while saying that US economic activity has somewhat strengthened and that the job market is slowly stabilizing, the Federal Reserve still decided to maintain the key interest rate within the range of zero to 0.25% where it has lingered since December 2008. The decision was reached during the government agency's policymaking meeting last Wednesday.
All is not lost for the country's savers however, because CD rate averages rallied this week to give depositors the slightest glimmer of hope that perhaps, banks may be willing to offer higher yields to consumers despite the availability of cheap funds from the central bank.
CD Rate Averages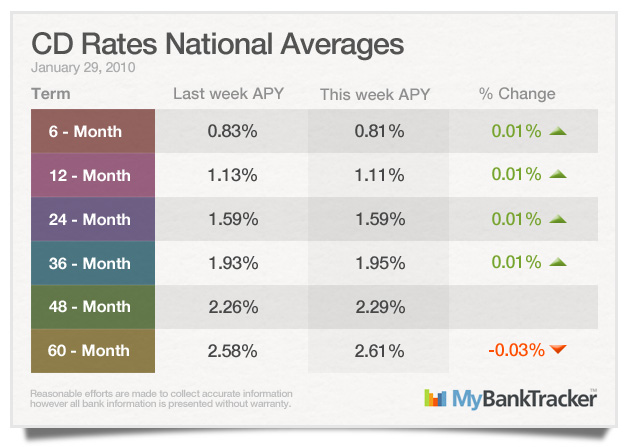 6-, 12-, 24-, and 36-month CDs
It's not too often that we find short-term averages for CD yields inching up and this week is one of those rare times. Six-month, one-year, two-year, and three-year CD average yields all took a one basis point hike, putting a halt to the previous weeks' seemingly never-ending slide.
48-month CDs
The average for 4-year CD rates remained largely stagnant these past few days, staying put at last week's level of 2.29%.
60-month CDs
Only the 5-year CD rate average plunged 3 basis points this week — a surprising change after its upward trending for the past three weeks. Still, with CD rates so low in general and anticipating possible changes in the Fed's policy in the next few months, it's also highly unlike that consumers would tie up their resources in long-term CDs.
CD Rate Hikes and Cuts
Leading the pack for the highest CD rate hikes for this week are Aurora Bank, Fsb, and Flagstar Direct. At the same time, Capital One and newdominionDIRECT made some of the biggest rate cuts.
The positive trend of the current CD rate averages and the Federal Reserve's positive outlook for the economy at this time are possible indications that things may be looking up for this nation after all. Or could the modest CD gains be a fluke brought on by the whirl of economic and political activities this week? We'll find out in our succeeding CD rates monitoring reports.
For a complete list of the updated CD rates for today, visit our comprehensive database of CD rates available.
Ask a Question