Best CD Rates Fall Slightly This Week, Americans Save Despite Low Interest Rates
A report released today reveals that the current economic crisis may have changed the average individual's spending and saving habits more than anticipated. Consumer spending, which is said to make up for more than two-thirds of economic activity in the country, rose by 0.2 percent in December, but the figure was slightly less than analysts' expectation of 0.3 percent.
American Choose To Save
What's interesting is that the somewhat tempered consumer spending may have been brought about by Americans' resolve to put more into their savings accounts. The same report shows that as of December last year, personal savings was at a six-month high, rising to an annual rate of $534.2 billion. It seems that despite the record-low deposit interest rates that banks, with the help of the Federal Reserve, are currently offering, the even more dismal state of the labor sector and the bleak economic outlook, have inspired individuals and households to be more of savers than spenders.
But with the Fed's announcement last week of continuing to keep benchmark interest rates within zero to 0.25 percent, is there any hope for depositors to see better savings and CD rates in the near future? Let's find out what this week's best CD rates have to offer.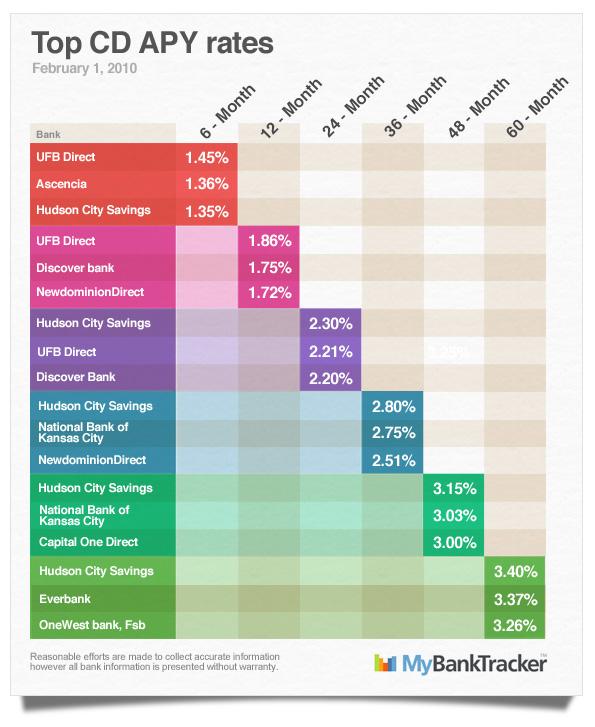 6-month CDs
While UFB Direct continues to have the best 6-month CD rate of 1.45%, the next top yields fell slightly. Ascencia dropped its rate to 1.36% from 1.40%, and with newdominionDIRECT also making a big cut to its previous 1.37% (now down to 1.31%), Hudson City Savings Bank and ADB Bank now complete the top three 6-month rates with 1.35% APY.
12-month CDs
The highest 12-month CD rates are also not-as-high as last week's yields. While the best rate is still at 1.86% from UFB Direct, the next best one-year CD rates have fallen to 1.75% and 1.72% offered by Discover Bank and newdominionDIRECT respectively. Previously, the yields were at 1.82% and 1.80% from newdominionDIRECT and Ascencia.
24-month, 36-month, and 48-month CDs
The best CD rates for the two-year, three-year, and four-year CDs remain the same for the most part with Hudson City Savings Bank continuing to lead the pack with its rate offerings of 2.30%, 2.80%, and 3.15% for these respective CD terms. The only change seen from last week is newdominionDIRECT's 5-basis point cut made on its 36-month CD rate, falling from 1.56% to 1.51%.
60-month CDs
While Hudson City Savings Bank still offer the top yield of 3.40%, five-year CDs got a boost this week from EverBank which gives a close 3.37%. OneWest Bank, Fsb rounds out the three highest 60-month CD rates with 3.30%.
For an updated list of the CD rates in your area and those nationally-available, check out our comprehensive database of rates available.
Ask a Question