Discover Bank Develops New Website with Simple Scheduled Transfers
Discover Bank gave MyBankTracker an exclusive preview of their new website Friday, with updated features aimed at increasing ease of use for customers and making online savings as easy and efficient as possible.
View All Your Accounts
The new website design allows you to sign in and view all of your accounts on one clean, intuitive dashboard and gives you access to edit and view all of the details of your money market and savings accounts. By signing in to your Discover banking center, you will see each of your accounts and pertinent information such as balance and even YTD interest displayed on the screen.
Additionally, you can go in and edit any details of the account, such as billing information, even adding an international billing address. This can be useful for consumers, especially if you are moving or plan to be at a different address for an extended period of time, as this tool lets you have your bills easily redirected to the new address.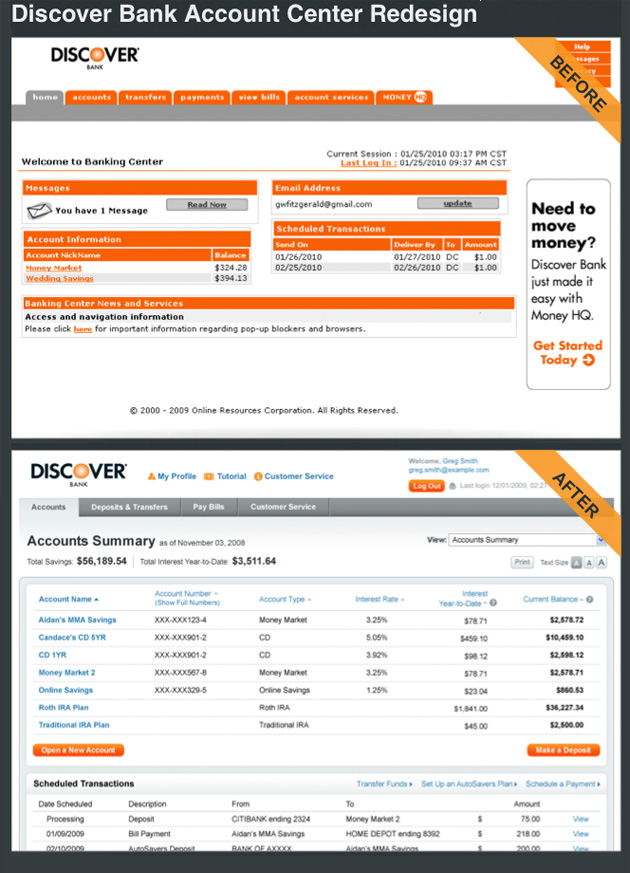 Scheduled Transfers
The new website has greatly increased the ease of use of internal and external transfers from Discover Bank accounts, an important feature for online bank account holders. Instant verification for external accounts are supported by about 50% of banks, so you don't have to wait when linking accounts. Once you set up a transfer account, not only can you see your scheduled transfers, but you can also edit and delete your future transfers if you change your mind.
The new site also allows you to set up recurring transfers, so you can automatically send money to your account at regular intervals weekly or monthly. Using the scheduled transfers screen, you can even skip certain transfers if you do not need them for that week or month. Transaction limits have been raised to $50,000 inbound and $50,000 outbound per month for each account.
Future Enhancements
Representatives from Discover Bank have indicated that new partnerships are likely to be announced in the next month, and they hope to continue to upgrade their banking center with new features. Some of these may include instant alerts by email or text that update you about savings options or transfers, a secure email account, a document center, and the ability to save files to PDF, among others.
For users new to online banking, Discover's new site design makes it easy for consumers to do all of their online banking on the site, and makes online banking an option that feels more comfortable and simple to all banking customers.
Discover Bank plans to roll out these new features to new and existing members on February 14, 2010.
Ask a Question