With Bundle and Blippy, Spending Is Becoming More Social Than Ever
Smart spending has become a hot topic due to the dismal job economy and restrictive credit industry. What better way is there to talk about spending than through social media? The increasing trend towards social networking can serve a greater purpose by helping people analyze their spending and make smarter spending decisions – along with increasing the awareness of the need to do so.
Driving the Conversations of Spending
How much more expensive is it to live in New York City compared to Miami? Do women always spend more than men? Consumers can shed some light on these question and more through in-depth conversations supported by graphs in the spending comparison tool created by Bundle, a new social media company based in New York City. Bundle uses aggregated data from Citi and third-party sources that allows visitors to compare the spending habits of two different demographic groups – and then share it on Facebook or Twitter.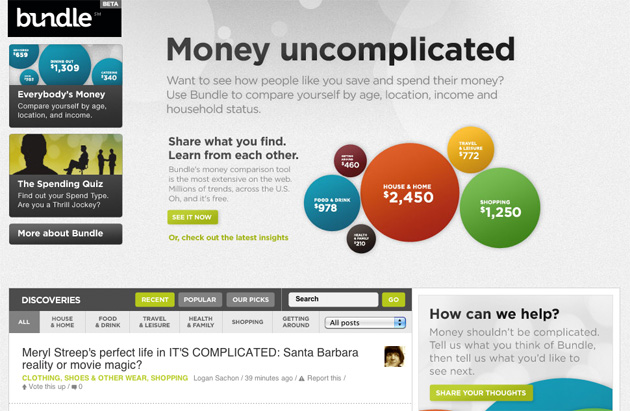 Finding Unknown Stores and Better Prices
Major retailers have held a prominent position in the eyes of consumers, who spend at the most popular stores since they are the easiest to find (and benefit from heavy marketing and advertising). Places that offer similar products and lower prices are overlooked simply because they don't have that kind of exposure.
But a new site called Blippy may take off some of the edge that retailers have over smaller stores. Users can link their Blippy accounts to their shopping and credit card accounts. The amount and location of their purchases automatically show up on Blippy's homepage. Although it may fuel the curiosity of what other people are buying, Blippy can be more practical in finding small and unique stores where consumers can exercise thrift shopping.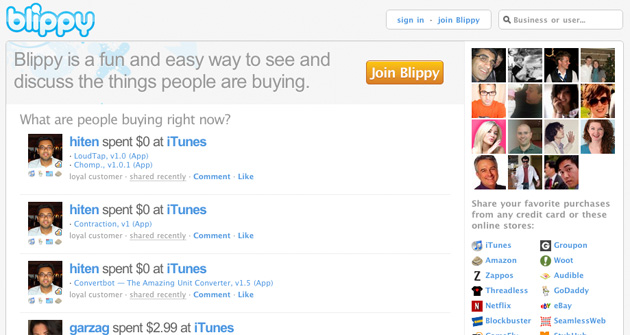 There Is a Downside
Financial institutions are aware of the power that social media has on their businesses. These sites are potential data mines for companies that can find ways to cash in on trends in consumer spending. The high volume of social chatter can be gathered and analyzed so that companies know who, what, when, where, and how to target a particular group of consumers. If a trend of increased spending for gas becomes apparent, credit card companies may limit the amount of cashback rewards in that category. In this respect, becoming more social may not end up being such a good thing for consumers.
Ask a Question