HSBC Changes Name of its Online Bank to HSBC Advance
A few changes have been announced for depositors of HSBC's online banking arm, HSBC Direct. As of January 30th, HSBC Direct will be renamed to HSBC Advance, and offered at a new domain, HSBCAdvanceUSA.com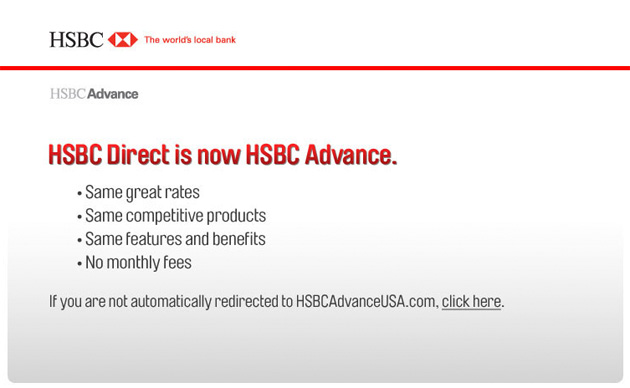 HSBC Advance
HSBC has assured its depositors that the name change will not effect normal banking activities, and that it will still offer competitive rates with no monthly fees. If you do forget about the change and do go to the HSBC Direct website, you will be redirected to HSBC Advance.
What's in a Name?
Although it may not seem to matter that much, re-branding their online banking arm shows a desire by HSBC to separate themselves from the many other "direct" banks out there, some of which have a bad reputation of unreliability and low quality customer service. Through this name change, HSBC hopes to get rid of the stigma that many online banks have while maintaining the image of being fast, easy and on the cutting edge with the Advance name.
You can view the new HSBC Advance website here.
Ask a Question