TurboTax Specialists Answer Tax Questions On Twitter
Tax season is here and everyone is fretting over how they are going to file their tax return this year – as they do every year. This year, however, worried taxpayers can turn to online tax preparer TurboTax and Twitter to help them with all of their tax-related questions.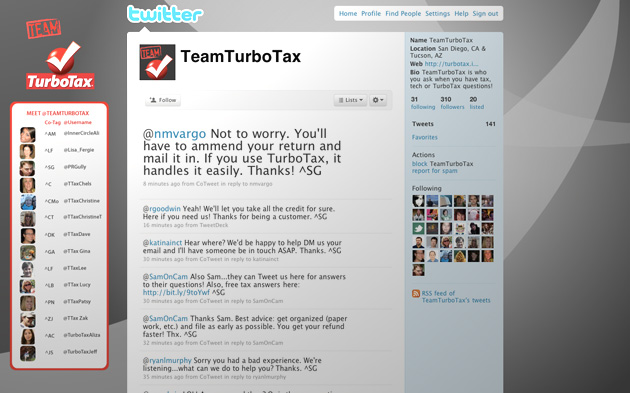 Internet Tax Filing On the Rise
TurboTax, the top-selling tax preparation software from Intuit Inc., has created a team to serve the taxpayers on one of the most popular social networking tools – Twitter. More and more tax filers are starting to do their own taxes and file through the Internet with TurboTax, and many of these users are also already on the popular networking site. It was only a matter of time before TurboTax opened an account there to interact with their customers via social media.
Get Quick Tax Answers on Twitter
To cater to the Twitter-savvy taxpayers, fourteen TurboTax specialists formed @TeamTurboTax to help customers complete their taxes easily. TurboTax users can tweet @TeamTurboTax regarding tax questions, product questions, and technical support.
With quick responses and answers, this team on Twitter is just another great addition to their Live Community web support and tradition phone support. Whether or not you are already using both TurboTax and Twitter, or are simply looking for a new way to find tax answers, bring your tax questions to Twitter and the specialists at @TeamTurboTax.
Ask a Question