Visa and the NFL Team Up for Super Bowl to Teach Kids About Personal Finance
Whether it's a $10 bet with your uncle, a $35 order of wings, or $3 million for a 30-second prime time commercial, the Super Bowl has as much to do with money as it does about football. Visa and the NFL have acknowledged this connection, and worked to use football to teach kids a lesson about personal finance.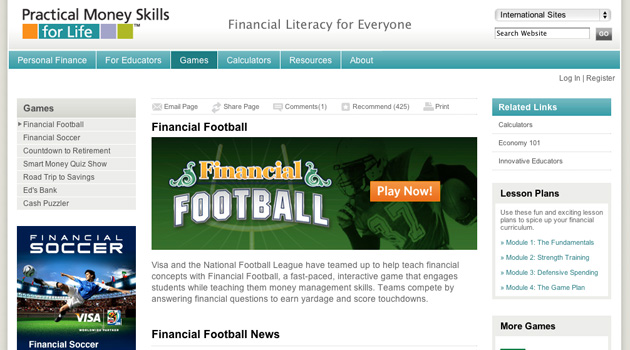 Financial Football
To use the hype about the Super Bowl as a way to promote financial responsibility, Visa and the NFL have announced the development of a financial football game, with different versions that have financial questions appropriate for high school kids and college-age students. To play, the students answer questions in order to move the football up the field. If they answer incorrectly, their team loses yardage, and the correct answer is displayed.
Adult Responsibility?
In an interesting contrast, the Nevada Gaming Commission has estimated that there are anywhere from $80 to $85 million in bets on this years Super Bowl, demonstrating that despite the best efforts by Visa and the NFL, financial responsibility loses out in the long run to the love of the game. The event itself is estimated to cost Miami and the South Florida region as much as $8 million, but the revenue that game-day attendees will bring into the area will far surpass the money spent.
However, despite betting and the $140 the average America will spent on a Super Bowl party this year, its great that these two franchises are making an attempt to create a teachable moment for today's youth out of the concept of football as a numbers game, through financial trivia.
Ask a Question